There are problems when using portable version on Windows 11 / 10 / 8.1 and Windows Defender folder protection is activated!




This rule is also 

... for the Freeware Tool AlwaysMouseWheel from Versoin 4.01

!

Many users who do not know exactly that the portable applications in the working directory store, the settings and this is no longer possible with Windows 10 and enabled Defender folder protection, especially if the program is launched from the desktop.




For this reason, there are two versions in the download area from version 4.31, once standard and the portable version of ►

 Don't Sleep.

Content:



1.) The standard version of Don't Sleep!
In the standard version of Do not Sleep, the program settings are stored in:


HKEY_CURRENT_USER\Software\SoftwareOK\DontSleep



No personal data is stored here, only the program-specific and personal program settings of Don't Sleep ;-)!



(Image-1) Standard Don't Sleep Settings on Windows-10!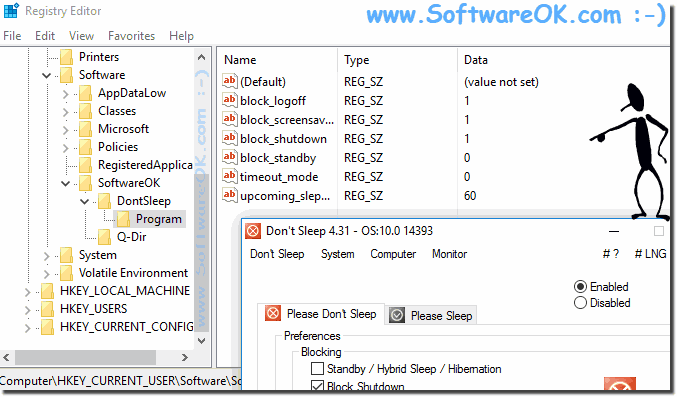 2.) The portable Version Don't Sleep!
The portable applications saves the settings in 
Don't Sleep
 working directory, please do not use folders with folder protection in Windows 10, otherwise the settings can not be saved. 
For better recognition from 4.31 in the program title is also the indication that it is the portable version of DontSpeep.exe. 
(Image-2) Portable use of Don't Sleep on Windows 10!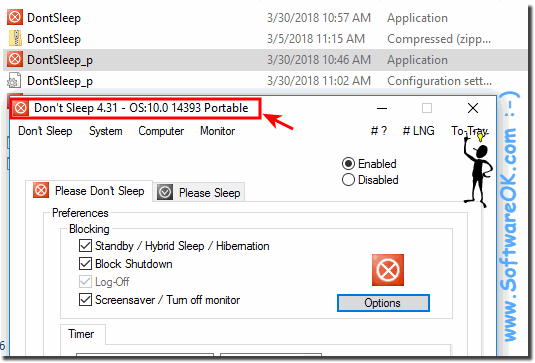 3.) Why the portable version to prevent standby mode or hibernation!
The Portable Version of Don't Sleep is a standalone version of the program that does not require installation. It can simply be copied to a USB stick or other external storage device and started from there. This is useful if you want to use Don't Sleep on multiple computers without having to reinstall it each time.

But also on company PCs without admin rights. Yes, the portable version of Don't Sleep can also be used on company PCs without admin rights. This is because it does not need to be installed and does not make any changes to the system registry.

However, it is important to note that using Don't Sleep on company PCs without admin rights may violate company policy. In this case, you should contact your IT administrator before using Don't Sleep.

The portable version of a software or application can be used to prevent a computer from sleeping or hibernating. This is useful if you want to ensure that your computer or device does not go to sleep while using a specific application or process. there are a few reasons why you need to do this.

To prevent hibernation or standby mode, you can use a portable application that keeps the computer active, for example by simulating keyboard input or keeping the screen active. However, keep in mind that continuously preventing sleep can reduce the battery life of a portable device, so you should use this feature sparingly.





FAQ 14: Updated on: 19 October 2023 09:59