Here is the solution for auto Login in MS Windows-7 without entering a password!
 

For an auto login in Windows-7 without password, please start the cmd.exe in administrative mode!
See the Windows-7 FAQ-23: ... Start the Windows 7 cmd.exe in administrator mode!

In the cmd.exe, execute "control userpasswords2" (execute= Press [ENTER]) (see Image-1).





(Image-1) User-Login in Windows-7 without Password


(Image-2) Auto Login to Windows without entering Password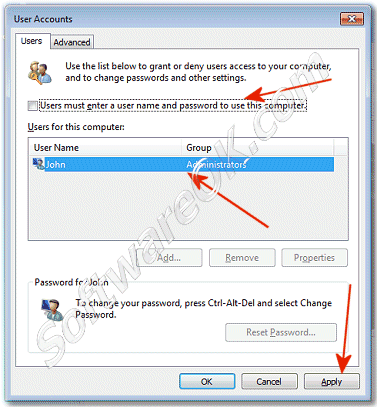 Please select the Use for Autologin in Windows-7!

Uncheck the checkbox:
"Users has to enter a user name and password to use this computer"
and then klick "Apply" (See Image-2)
That´s it!
Tipp:
To change password select the user,
press Ctrl-Alt-Del and select Change Password.
Use the list below to grant or deny users access to your computer and to change passwords and other settings.

FAQ 24: Updated on: 2 June 2022 19:44