The solution to disable or delete Hiberfil.sys on Windows 8.1, 8 or Windows 10!


When you have a SSD, you don't need the hiberfil.sys, since starting with SSD is pretty fast anyway!
So, the best is, to delete eg. disable hiberfil.sys in Windows 8.1 / 8. 

Start the Windows-8/8.1 and 10 cmd prompt in administrative mode via shortcut keys [Windows+X], then in the command prompt simply enter the command: powercfg.exe /hibernate off !
This command will disable Hybrid Standby mode and delete the hiberfil.sys!(... see Image-1 Arrow-1)

This solution is also for Windows 7, 8, 8.1, Vista and Server 2008, 2012!

See also:
... Customize the paging file pagefile.sys in Windows 8.1 and 8!
... disable or enable Hibernate and Sleep at Windows 8 and 8.1!
... Auto Shutdown in Windows-8 und 8.1!
... turn off the Windows 8, or shut down the Windows 8!




(Image-1) Delete eg. disable Hiberfil.sys on Windows 8.1and 8!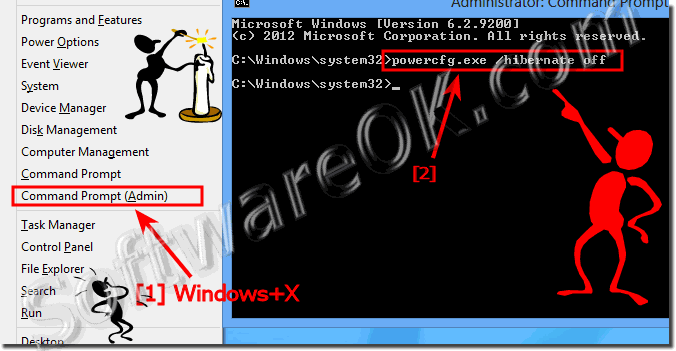 FAQ 144: Updated on: 25 September 2018 00:09