Is simple to turn of the start with Windows 8.1 of  the speech recognition, this solution is for Windows 10 and Windows 7!


With the right mouse button, click the speech recognition microphone and select options and uncheck the "Run at startup" (... see picture 1 arrow 1 and 2).

Use the command: %windir%\Speech\Common\sapisvr.exe -SpeechUX
to start the voice control, if it is not already running.  (via the Windows 8.1 / 1 Run-Dialog)

If the speech recognition cannot be started because no microphone is connected, open with the Windows 8.1 registry editor
the registry folder: HKCU\Software\Microsoft\Windows\CurrentVersion\Run
and remove the value (entry)

speech recognition

!

See also: Windows 8.1 registry autostart entries for auto run || disable Spell-Checking in Windows 8.1 / 10 ||



(Image-1) Turn Off to start speech recognition with Windows 8.1!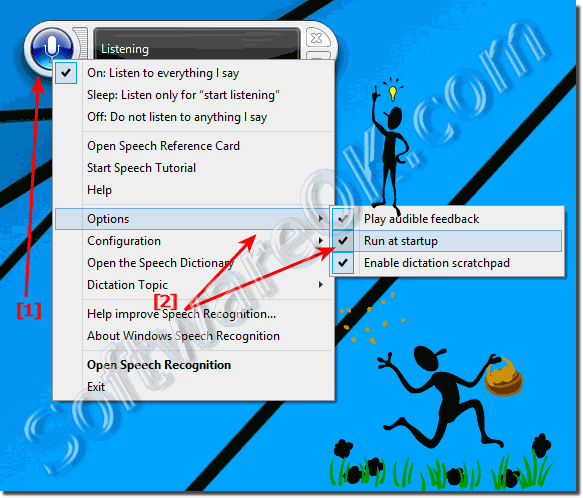 Info (c) Microsoft!

Windows Speech Recognition makes using a keyboard and mouse optional. You can control your PC with your voice and dictate text instead.

Note:
Speech Recognition is only available for the following languages: English (United States and United Kingdom), French, German, Japanese, Mandarin (Chinese Simplified and Chinese Traditional), and Spanish.



You can use your voice for many tasks, such as filling out online forms or typing letters. When you speak into the microphone, Speech Recognition transforms your voice into text on the screen.

FAQ 197: Updated on: September 26th 2015 10:54