If you want to open the startup folder in Windows 8.1 or 8, E.g. to auto start the programs with Windows, here is the solution for Windows (7, 8, 8.1)!


The fastest way to opening the startup folder of Windows 8.1 is via the address shell:startup, that you can enter in address bar of MS Explorer, or use for a new Windows 8.1 desktop shortcut.

Or via the Windows 8.1 Run dialog box [Windows-logo] + [R] and enter the command shell:startup
(... see Image-1 Arrow-1)

There is still a second startup folder shell:common startup this is responsible for all users, when here, an entry is made, or deleted, it is valid for all users on the PC. (... see Image-2 Arrow-1)

PS: Here is the alternative addresses!

Autostart for currently logged-on user:


shell:startup

=

%appdata%\Microsoft\Windows\Start Menu\Programs\Startup


And startup folder all users:


shell:common startup

= %programdata%\Microsoft\Windows\Start Menu\Programs\Startup



shell:start menu

is the Startmenu folder in Windows 8!
 
See also:  # ... the entries for auto run in registry! # ... user auto login no password! # ... Disable auto turn off! # ... shell:folders?



(Image-1) Current--User Auto Start-UP-Folder Windows!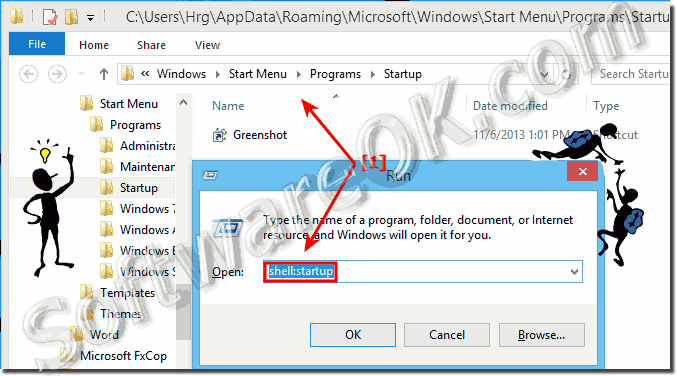 (Image-2) All user start-up-folder in Windows!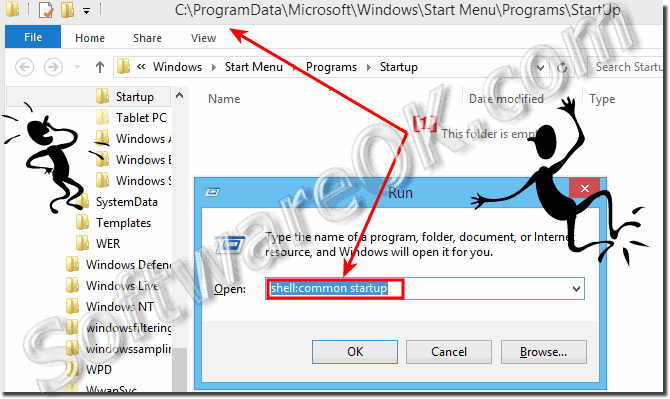 FAQ 206: Updated on: July 28th 2017 12:52