The folder Program Files (x86) in Windows

10 and 8.1 is the Directory for 32 bit Programs and Program Files for 64 bit Programs



1.) The difference  of the folders and x86 (x32) / x64 under Windows!
In the standard folder "Programs" only the installed x64 applications are saved, such as my program 

The Quad-Explorer x64

. 

So:

As before, this serves to provide a better overview and order on the computer, but has no effect on the programs themselves. An x64 program remains an x64 program, regardless of the folder in which it is located. The same applies to the x86 or x32 programs.





Don't delete th x86 Program-Files folder!


See also: ► ...Create Windows 8 / 8.1 desktop shortcut for Program-Files and Program-Files(x86)!



(Image-1) Program Files (x86) in Windows 8.1 x64 64-Bit!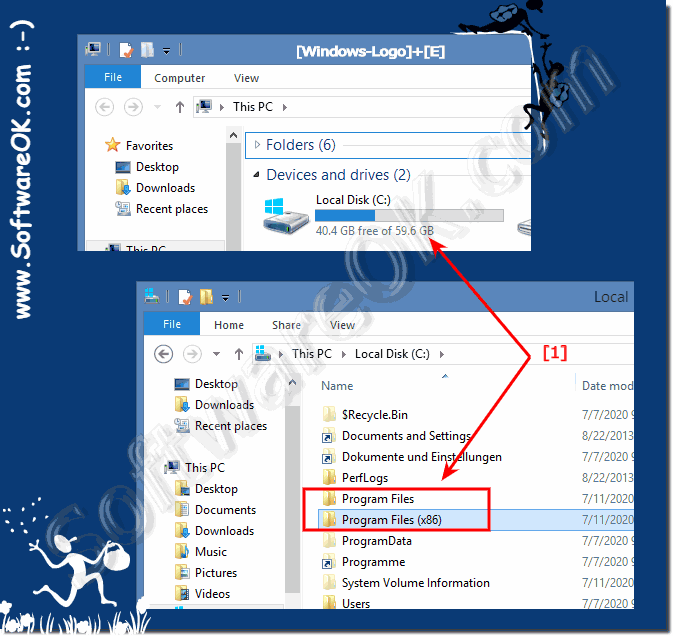 2.) Can it crash when I mix the program files!
This is not a compatibility function for old 32-bit programs. It serves as an overview of where a program is and does not change its bitterness or function.

These 32-bit programs can tell exactly whether they are running on 64-bit Windows, it may be described differently on some pages, but they are unaware that a 64-bit version of Windows will not have 32-bit applications without WOW64 at all can start. 

32-bit programs cannot load 64-bit libraries, the so-called libraries for experts, also known as DLL files. Windows also cannot crash when trying to load a specific DLL file and a 64-bit file because it is not possible from a 32-bit file!

The same applies to 64-bit programs, which cannot load a 32-bit DLL.

As a program developer, I know what I'm talking about:








FAQ 61: Updated on: 17 May 2021 14:19