Find Your IP Address Quickly in every Windows OS, the solution is to simple for every User Account on Windows 11, 10, .... and MS Server!



Please start the command Prompt (cmd.exe) and use the command ipconfig, to see the IP Address, Subnet Mask and Default Gateway!  


See also: ►►► Show Wi-Fi Password of your Current Network!

Your Internet IP: ►►►  https://www.softwareok.eu/Tools/ip_addresse.pl



(Image-1) Find Your IP Address Quickly on every Windows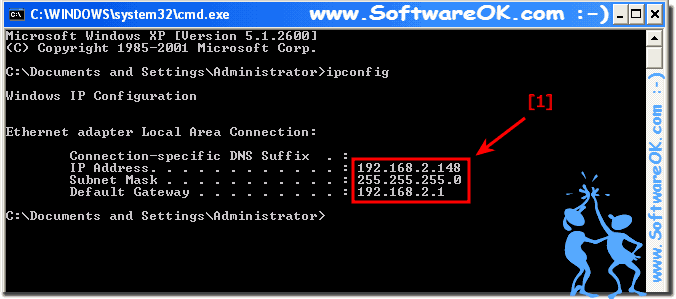 The help file for IPCONFIG !
Microsoft Windows XP
(C) Copyright 1985-2014 Microsoft Corp.

C:\Documents and Settings\Administrator\Desktop>ipconfig /?

USAGE:
ipconfig [/? | /all | /renew [adapter] | /release [adapter] |
/flushdns | /displaydns | /registerdns |
/showclassid adapter |
/setclassid adapter [classid] ]

where
adapter         Connection name
 (wildcard characters * and ? allowed, see examples)

Options:
/?           Display this help message
/all         Display full configuration information.
/release     Release the IP address for the specified adapter.
/renew       Renew the IP address for the specified adapter.
/flushdns    Purges the DNS Resolver cache.
/registerdns Refreshes all DHCP leases and re-registers DNS names
/displaydns  Display the contents of the DNS Resolver Cache.
/showclassid Displays all the dhcp class IDs allowed for adapter.
/setclassid  Modifies the dhcp class id.

The default is to display only the IP address, subnet mask and
default gateway for each adapter bound to TCP/IP.

For Release and Renew, if no adapter name is specified, then the IP address
leases for all adapters bound to TCP/IP will be released or renewed.

For Setclassid, if no ClassId is specified, then the ClassId is removed.

Examples:
> ipconfig                   ... Show information.
> ipconfig /all              ... Show detailed information
> ipconfig /renew            ... renew all adapters
> ipconfig /renew EL*        ... renew any connection that has its
                   name starting with EL
> ipconfig /release *Con*    ... release all matching connections,
                   eg. "Local Area Connection 1" or
                       "Local Area Connection 2"

C:\Documents and Settings\Administrator\Desktop>



This example to find your IP Address quickly or the Host-Name (Computer-Name) via Command Prompt ergo cmd.exe is suitable for Microsoft Windows OS in example for Windows 11, 10 , 8.1, 8, 7: Pro, Home, Enterprise, Basic, Premium, Professional, Starter, Ultimate, Windows-Server 2019, 2016, 2012 and is a very powerful feature.





FAQ 2: Updated on: 26 August 2023 09:23