The automatic login under Windows 11, or logging in without a password / sign in, is a little different than under Windows 10!
With the previous version, Windows 10, it was possible to save your password so that you don't have to enter the password every time you log in. This setting can currently only be reactivated to a limited extent under Windows 11. The automatic login under Windows 11 works, but only without Microsoft account login! For MS-Accounts:
AutoLoginOK
!
1.) Set up autologin via control userpasswords2 / netplwiz! 
Very few users report that this classic method still works!

1. Enter Windows key + R netplwiz and start it


2. Select Autologin User 

3. Uncheck "Users must enter an user name and password to use this computer." 
in the User accounts window.



Addendum! Solution 1 - Doesn't work on every Windows 11, cause unknown! Optional ► AutoLoginOK

!

(Image-1) Windows 11 Autologin!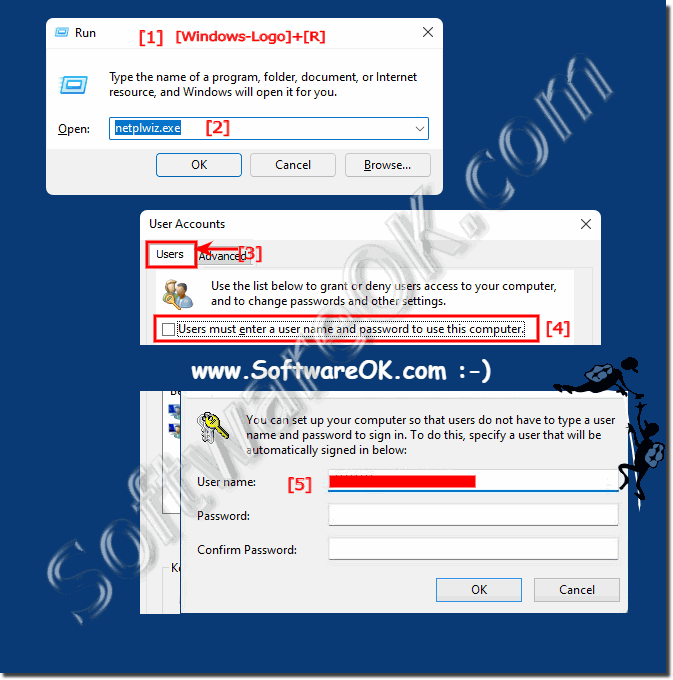 2.) Autologin Windows 11 Home, Pro, ... Create registry entry!
An ancient autologin trick also works with Windows 11 and 10, Home, Pro, .... etc!
(
... see Image-2 Point 1 to 7
 )
It is best to create an
Auto-Login.reg
  registry script on the desktop and simply enter your values. There are autologin tools, but they do essentially the same thing as this autologin script! In Example
the Auto-Login-OK Tool for Windows
!
For the Auto-Login.reg

Windows Registry Editor Version 5.00

[HKEY_LOCAL_MACHINE\SOFTWARE\Microsoft\Windows NT\CurrentVersion\Winlogon]
"DefaultDomainName"=""
"DefaultUserName"="Your Login Name"
"AutoAdminLogon"="1"
"DefaultPassword"="The Password"


(Image-2) Automatically log in to Windows 11 or 10 / Autologin!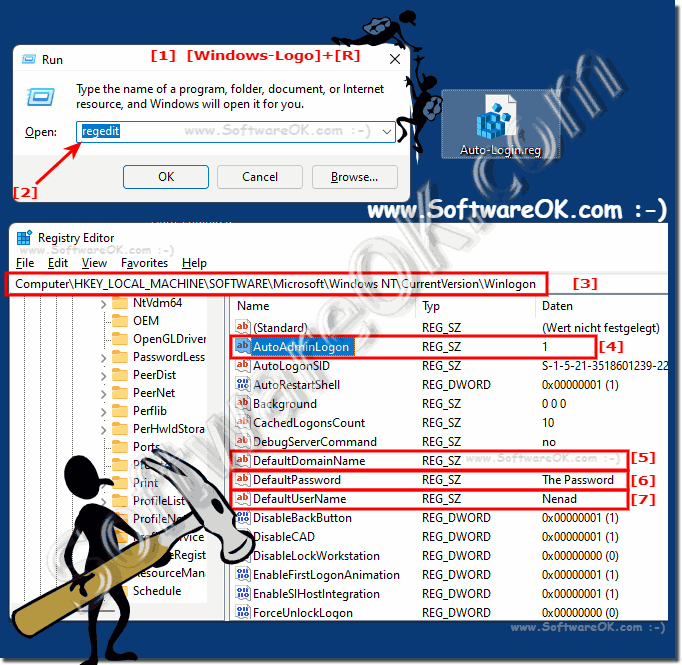 3.) ... What should be considered when auto-logging in on Windows 11!
You should only use this on your home PC, or in places where you are sure that no unauthorized person can access your computer!
To be on the safe side, you can possibly activate the screen saver password in order to have a little protection if necessary!
1. Windows + R and 
desk.cpl ,1
2. Activate the screen saver,
(
... see Image-3 Point 1 to 4
)
PS: If the password has been set then the screen saver uses the same
See also: ► 
How can I change, set, remove the password under Windows 11?
(Image-3) Activate Windows 11 screensaver with login!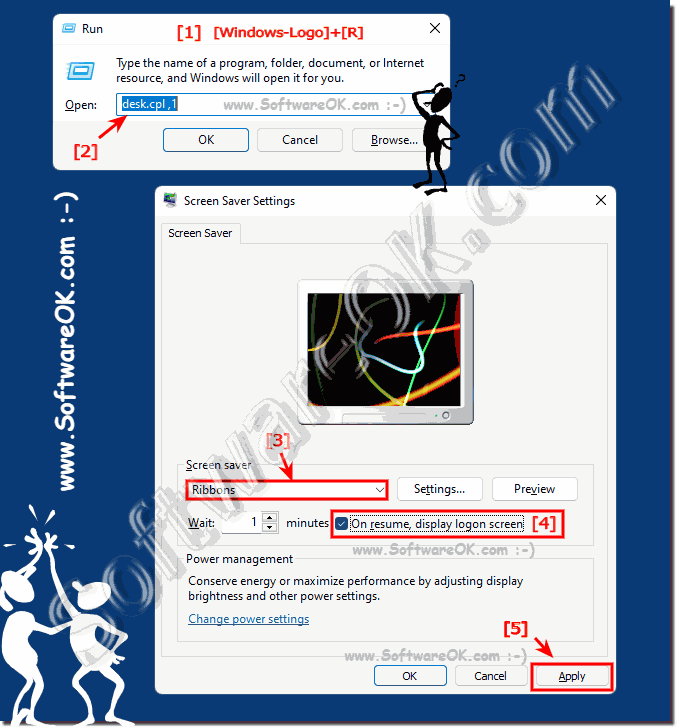 4.) ... If user accounts do not have a password, Windows 11 can also be used!
If you also have several accounts, Windows 11 automatically logs in with the
last user used
, if this
is configured without a password
. Everyone knows how to remove password on Windows, but here is the quick fix because it's so easy!
1. 
Windows + R
and command  
netplwiz.exe
or
control userpasswords2
2. Now simply mark your favorite user 
3. And
Reset P
assword ...
, if it is the one you have just logged in, just press
Ctrl + Alt + Del
4. Now also click on the  text 
change a password
5. Enter the current password and the new password + password confirmation
simply leave both blank
(
... see Image-4 Point 1 to 8
)
Important! Is not possible with an MS account under Windows 11!
(Image-4) Remove password for autologin under Windows 11!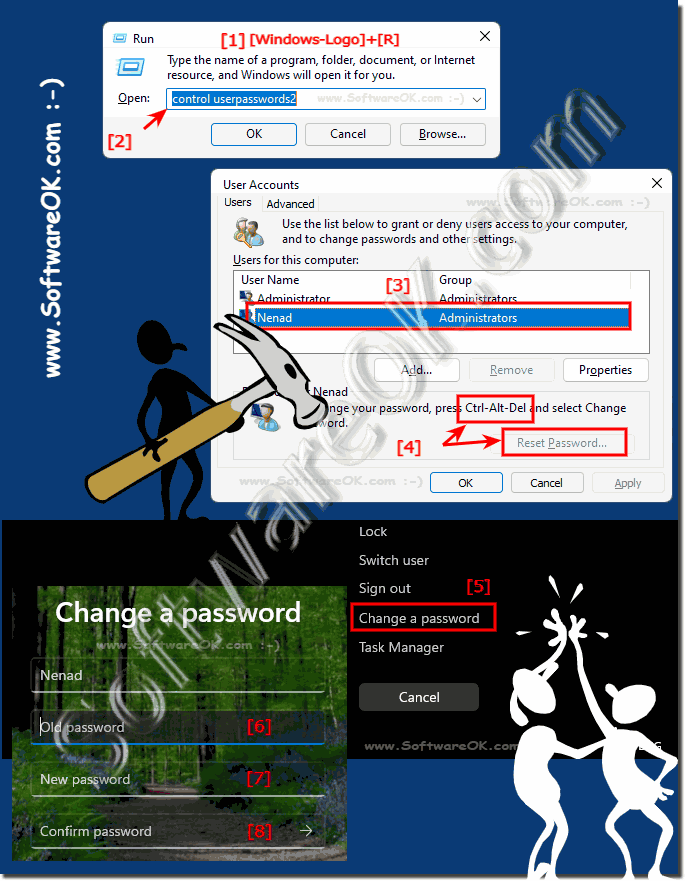 5.) ... Autologin in Windows 11 with MS Account and / or PIN! << NEW
You can set up the autologin on Windows 10 and 11 quite easily with the MS account it will be a bit difficult and you will face a problem!
The tool does not currently check your account, username, password, it is up to you to enter the information correctly and to confirm it with Set! But it also works on Windows 11 and 10!
(Image-6) Auto-login with MS account enables automatic login on Windows!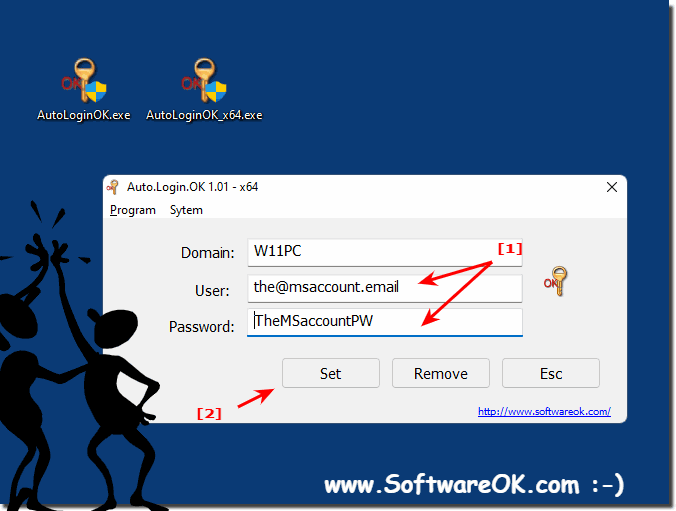 FAQ 53: Updated on: 26 August 2023 06:41