It is easy to securely erase data from hard drives with DiskPart via command prompt in MS Windows 11, 10, ... or Server OS!




Safely erase a hard drive with Diskpart on Windows OS and MS Server!

There are practical ►► 

tools like Secure Erase for Windows

, but as an administrator you can also securely erase the data with DiskPart, DiskPart is a command interpreter in text mode that comes with Windows 11, 10, 8.1, ... and MS Server 2022, 2019, 2016, ... is included.


Contents:



1.) Start and list the hard drives for safe deletion!
(Image-1) Securely delete data via command prompt on MS Windows OS!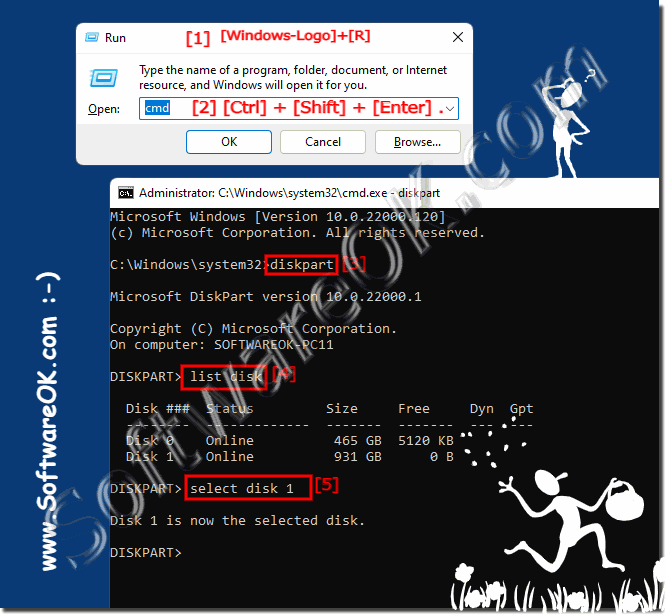 DiskPart is a text mode command interpreter that ships with Windows 10, 8.1, Server 2019, 2016. This tool allows you to manage objects (hard drives, partitions or volumes) using scripts or direct input at the command prompt. A lesser known feature of DiskPart is the ability to securely erase a hard drive or partition. 



2.) Select the hard drive / partition on the drive!
Select disk: Command: select disk 1




DISKPART> select disk 1

Disk 1 is now the selected disk.

 



3.) The secure deletion of data with DiskPart under Windows!
After the data carrier is selected  




 

DISKPART> clean

 

The disk has been cleaned.






4.) What can I do if I want to C: \ Secure-Erase? 
You can of course reinstall the system and then overwrite the entire free area with random numbers!



Or you can unplug the hard drive and connect it to another computer in order to then securely delete the data. You can do this on the other computer, notebook, laptop using a USB adapter for hard drives  









FAQ 86: Updated on: 26 August 2023 10:47