Don't panic if the network drive disappears after restart or update, it's not a big deal!
Content:
After a major Windows update or a 
correct Windows restart
, a network drive loss can occur, a simple and correct reconnection is the solution, the simplest under all Microsoft Windows operating systems. And it is quite easy to reconnect the corresponding network drive in the 
Q-Dir Explorer
 and the 
MS File Explorer
!
1.) The fastest connection to a network path to create network drive!
1. Start as always the 
Q-Dir Explorer
2. Easy to ►  
change the path address bar 
enter
3. And simply map the Network Drive
(
... see Image-1 Point 1 to 5
)
Not only
Windows administrators
, but also users with the necessary rights, can quickly connect to a NAS, FTP server, or other network shares to access a folder on the network as a full drive, which is very practical! Because it can be treated like a local drive. And you save time in the Quad-Explorer and the Standard Windows Explorer! 
(Image-1) If the network drive disappears after restart or update!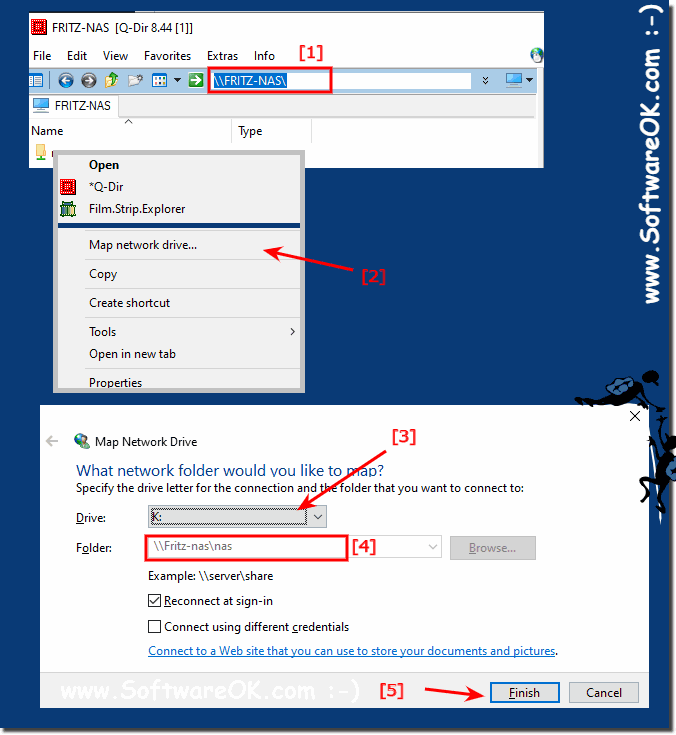 2.) What should I do to avoid losing my network drive again?  
If you lose the network drives on the PC, especially when restarting, and there is no error message, it is usually the case that you forget to check the box:
[X] Reconnect at sign-in (logging on)  
Unless there is the rare error message ►►  
"The network path  was not found"
Tip: 
NAS and networks are not recognized on the Windows 10 computer (set up network drive)?
(Image-2) Connect network drive after restart, no lost the connection!