Since all data on the Windows XP hard drive is irrevocably lost as a result of formatting, all important data should be backed up beforehand.



 You can undo formatting with special programs, but a lot of data is lost in the process. So, be sure to back up all your important documents and data before formatting the hard drive!

Since all Windows operating systems do not allow formatting of the hard disk on which XP is installed, it is necessary to start with the Windows installation CD or DVD.

After backing up the data, insert the Windows installation CD into the CD/DVD drive and restart the PC.

1.) Now a confirmation prompt appears on the screen


 
Press any key to boot from CD



Now wait a little until the Windows installation routine displays the following selection. To reinstall Windows, press the "Enter" key here.

It looks like this!


Windows XP Setup
================

This part of the setup program prepares for the installation of
Microsoft(R) XP on this computer.

* Press ENTER to install Windows XP
	   now.

* Press the R key
	   to repair a
	   Windows XP installation using the Recovery Console.
* Press the F3 key to cancel the installation
	   without installing Windows XP.


2.) Then confirm the AGB(s) with the "F8" key.
3.) Now comes the selection of the partition, since it is a new installation. Confirm here with the "L key" to delete the partition.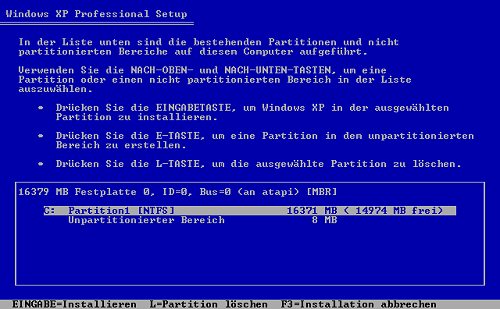 4.) Confirm the deletion again with the "ENTER" key.
5.) Confirm the deletion again with the "B-KEY".
6.) Then install Windows XP on the unpartitioned area
7.) Now comes the formatting of the hard disk. With XP you can use FAT32 or NTFS. Formatting takes a while and depends on the size of the hard drive.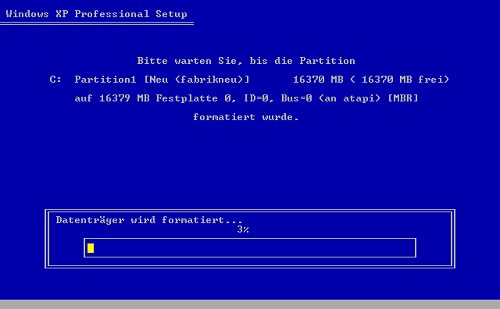 8.) This is followed by the standard Windows XP installation (15 - 45 minutes).
FAQ 1: Updated on: 10 July 2022 05:28