When you try to run Re-run Assessment, a command line window flashes quickly and closes. 

1. Please Start ExprenceIndexOK open the Performance-Folder! (... see Image-1 Point 1) 

2. Clear the Folder (Delete all Files) (... see Image-2)


Tip: Or create a subfolder and move it to this 

folder

! 

3. Re-Run Again



In 100% of cases, the index of performance re-evaluation works, the error is like in MS Surface Pro and also in the Windows 10 tablets, but that's not so bad if you know how to proceed! 

PS: A really rare phenomenon. 





(Image-1) The Experience Index Files-Folder!





OK clear the Exprence Index Folder/Directory on Windows 10 / 8.1 / Seven. That is it!




(Image-2) Clear the Windows Exerience folder!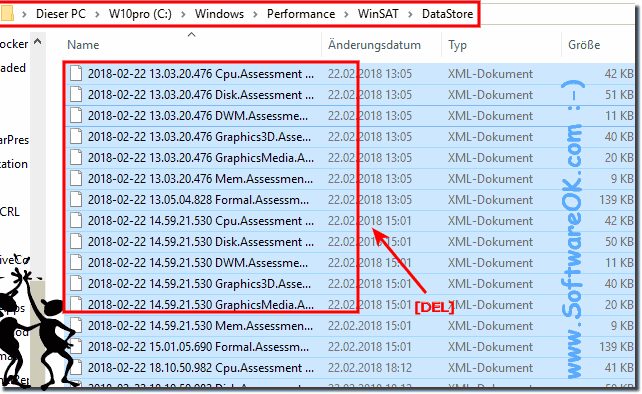 Info:
In order to determine the Experience Index also known as a performance index of Windows, is not magic required, so Harry Potter can continue to play Quidditch! As you can see in the Windows 10 shot screenshot. However, you can safely and easily use this performance index example to read the performance index on older MS Windows operating systems, whether you want to read the performance index on a home Windows desktop computer or Discover the performance index in the Mac-Cafe on the Tablet PC, Surface Pro / Go, or even on a Professional Server operating system. It really makes sense to know the performance index of the PC with this simple, yet effective performance index readout tool, it has been tested and successfully
verified
various system configurations.
FAQ 4: Updated on: 12 September 2023 16:29