Yes, this software can prevent user don't have to worry about the monitor being turned off during an online meeting!




 

Content:




1.) Prevent the monitor from turning off!
1. As always, start your ►► Prevent-Turn-Off on your MS Windows OS!

2. Activate the option that the monitor does not go out 

3. As long as the program is activated, your monitor will not go out

(... see Image-1, Point 1 and 2)




It is not software that automatically moves the mouse pointer so that it does not appear as absent in online meetings such as Teams and Meetings. A system message is sent that the monitor is required. And under no circumstances should it be switched off!



 




(Image-1) Software prevents the monitor from being switched off during an online meeting!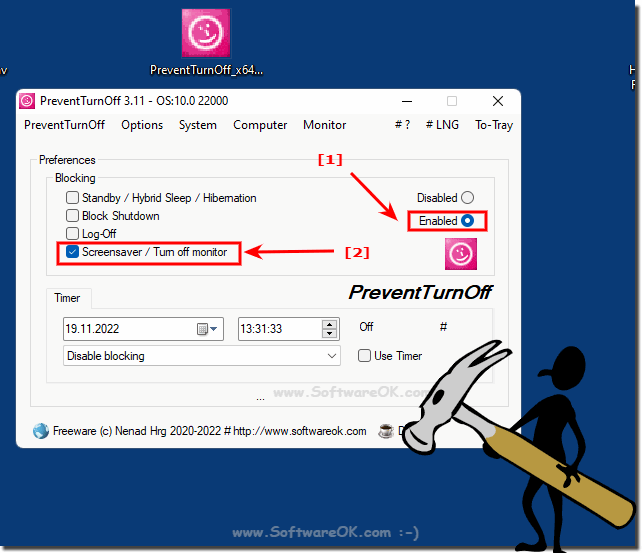 Many users use hover software periodically and perform automatic actions during operation. This is not necessary with this tool! By using this software you can prevent the screen from going off!




2.) Is it important to prevent your monitor from turning off!




To maintain an uninterrupted session, it can be important to prevent your monitor from turning off during an online meeting. To achieve this, you can use both built-in operating system settings and third-party software solutions, depending on your specific needs and preferences.




Here are some methods to prevent your monitor from turning off during an online meeting without any additional tools!

Windows:

Right-click the Start button and select Power Options.
In the Power and Sleep settings, make sure the Screen and Sleep settings are set to a longer duration or to Never if you don't want your monitor to turn off automatically.

Mac OS:
Go to Apple menu > System Preferences > Power Saver.
Set the "Turn off display after" slider to a longer duration or set it to "Never."

Method 2:
Use third-party software

If your operating system settings are inadequate or you want more control, you can use third-party software to prevent your monitor from turning off during online meetings.

Here are some options: Dont Sleep  ►►  PreventTurnOff 
 


Info:

Remember to configure and use these tools responsibly as leaving your monitor on for longer periods can use more power and generate more heat. Choose the method that best suits your operating system and preferences to prevent your monitor from turning off during online meetings.





FAQ 7: Updated on: 4 October 2023 12:00