Yes, and it is very easy to continue testing the RAM / memory on all MS Windows 11 OS with this memory test tool!




Even with the latest

 Microsoft Windows 11

 you can  still use the 

"Memory Test Tool"

to test the RAM. It is suitable for all Windows OS from Windows 2000 to MS Windows 11 and Microsoft's Windows Server 2019, 2016, .... you don't have to do without this simple option of Memory Test on any Windows PC!


Content:


1.) Simple example of the RAM test on MS Windows 11!
1. Start as always ►  the alternative memory test tool on Windows 11

2. It is most effective if you set it to infinity 

3. And test the Windows 11 memory without detours

(... see Image-1)




(Image-1) Simply continue to test the RAM on MS Windows 11 with this tool!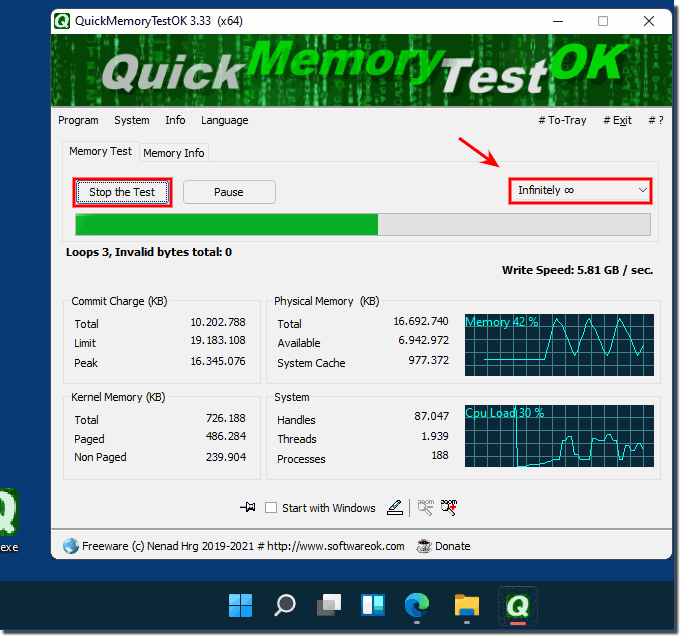 2.) Is a RAM test even necessary under the new MS Windows 11?



The RAM test under MS Windows 11 is not mandatory, but still recommended. Even the best operating system can have bugs that can also affect RAM.

Windows 11 is a modern operating system that can automatically manage memory (RAM) and detect errors. If there are problems with memory, Windows 11 should usually detect them and display appropriate error messages.


However, in certain cases it may be useful to run a RAM test, especially if you have system stability or performance issues. A RAM test can be used to determine whether faulty RAM could be the cause of problems. However, this is more of a further diagnostic measure and is not required in normal operation.


The following are the reasons for running the RAM test on Windows 11:

Troubleshooting:
If your PC is experiencing unexpected crashes or blue screens, a RAM test can help find the cause.
Early detection:
Even if your PC is currently working perfectly, it may make sense to regularly test the RAM for errors. This allows you to identify and resolve potential problems early.

If the RAM test does not find any errors, you can be sure that your RAM is in good condition. However, if the test finds errors, you should replace the RAM.




The RAM test in Windows 11 is an easy and quick way to test the RAM for errors. Even if your PC is currently working perfectly, it may make sense to test the RAM regularly. This allows you to identify and resolve potential problems early. Windows 11 is a powerful operating system that generally handles RAM well. However, it's always a good idea to make regular backups and occasionally run system diagnostics to ensure your computer is running smoothly.







FAQ 5: Updated on: 25 October 2023 18:23