The easy solution to restart a background service on Windows 11, 10, 8.1, and MS Server Operating Systems (2022, 2019, 2016, ...)!





The "Restarting of Windows Services" can be easily initialized, just start the Services Administration Tool, is a fast solution and also for older versions of Microsoft's Windows operating systems, whether it's a Windows desktop, tablet, Surface Pro / Go, or even a server operating system, is not only for Windows 10. 




Content / Solution / Tipp:

1.) Finding, or starting service administration tool!
The services can be opened on all Microsoft Windows systems via the Run dialog (key combination [Win key + R] and by entering the command services.msc.

Thus, you can also under Windows 10, 8.1, 7

initiate

a direct start of service management tool! 

Restarting Windows services is now self-explanatory

The pictures for this example were created under Windows 10, but work on all Windows and Windows Server systems.

Tip:
Optionally, you can also

 open

the Windows Control Panel. Double click on that Administration icon. Then double-click the Services icon .


(Image-1) Restart a background service on Windows 10, 8.1, ... MS-OS!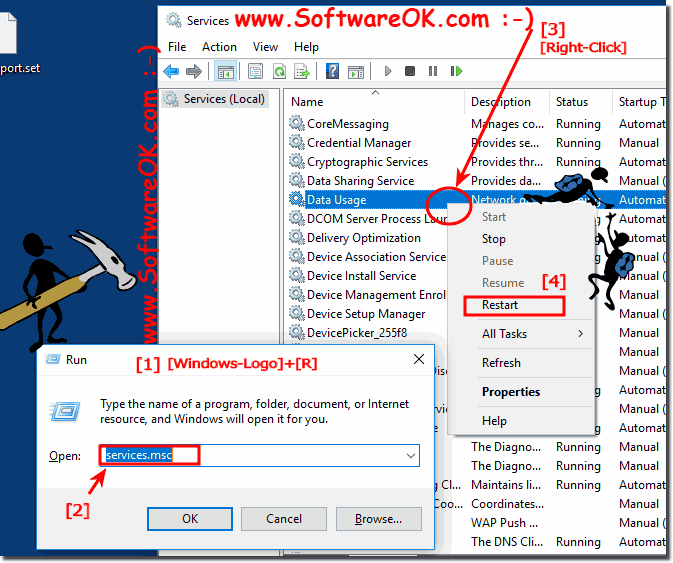 2.) More information that you should consider in services!
You must be a member of the Administrators group  , or have an account with the necessary privileges, to restart the services on Microsoft Windows systems, or have been assigned the appropriate permissions, or have an administrator password.
For security reasons, you should reboot utilities with the required knowledge.
By the way!
The Service command
is also the command-line command for starting and stopping services on Linux.
FAQ 28: Updated on: 8 August 2021 05:50