The purpose of defragmenting under Windows 11, 10, ... etc., defragmentation is needed to combine all fragments of a file into a continuous sequence. 
 


After defragmentation, the speed of accessing files and reading them increases accordingly. To understand the defragmentation process, one must first understand what fragmentation is and why it occurs. The thing is, while working with files, they are constantly reading and writing. Files are stored on data carriers in so-called clusters. A single file can occupy multiple clusters.

Now imagine that if you have multiple files, the division is not always the best. First you save the first file and it will take a few clusters in a row. Then you have saved the second file, it will hold the next clusters.

If you now go back to the first file and change its size, the new data will not be written to the original next free cluster block, no, you will get the cluster that is free after the second file. This is fragmentation, the file is stored in multiple clusters on the hard drive.

Over time, due to the fact that the system is constantly creating and deleting files, but still very often we work with the same files in order to overwrite them over and over, which increases the fragmentation of files significantly. Many files can be broken down into hundreds or even thousands of parts. All of this does not have the best effect on the speed of the system.





(Image-1) Defragment under Windows!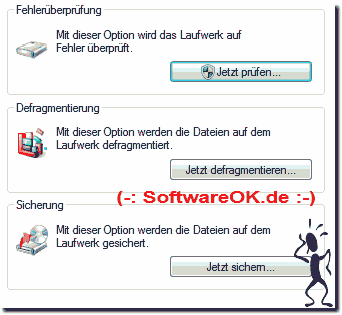 This happens when you create and save a file, then come back at a later time and enlarge it so that it is larger. Windows has probably already saved other files behind the original file. The only way to save the changed file to disk is to split it into separate parts and save the new part to a different location on the hard disk. A part of the operating system called the file table keeps track of where the various parts of a file are stored.
Defragmenting is the process of scanning your hard drive and joining together the various file fragments that are stored on the hard drive. When files are stored in consecutive pieces, your operating system can access them much faster. Defragmenting your hard drive can improve the performance of your PC if performed regularly.
FAQ 91: Updated on: 4 September 2023 10:20