With
older scanners

, which scan for example not in Din A4 range, it is difficult to reach the scan area or page size of the PDF DIN A4 (on Windows 11, 10, ... etc.)!




 

Content:


1.) Changing the page size!


For this reason, you can make the following settings in WinScan2PDF:



Menu ► Options ► PDF ► change to A4


This is then the page size of the output PDF file.
and
Menu ► Options ► Picture ► Crop to the page
This option cuts off the excess area


If you enlarge the WinScan2PDF window, you can see the cut in the preview ;-) 
The whole thing is possible from version 3.77!






(Image-1) Scanning area or page size as DIN A4 to PDF!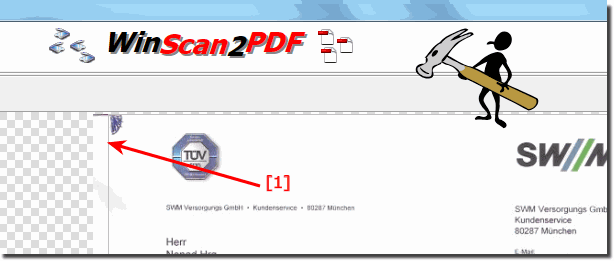 2.) Further tips on paper format etc. on MS Windows OS!

To convert a scan area or page size to A4 PDF format, you can use scanning software or a scanner that supports these functions.

Here's a general guide:

Choose a scanner or software: Make sure your scanner or scanning software has the ability to convert the scans to the desired format. Most modern scanners and software applications offer this option.

Prepare the scanner: Place the document or image on the scanner's glass plate and make sure it is oriented correctly.

Adjust settings: Open the scanner software and search for Scan Settings. Here you can customize scanning settings, including scanning resolution and file format. Select "PDF" as the output format and make sure A4 size is selected.

Run a scan: Start the scanning process. Your scanner captures the image or document and automatically saves it in PDF format in A4 layout.

Save File: After the scan is completed, the PDF file is usually saved to a destination folder on your computer. You can customize the file name and choose the storage location.

Check: Open the PDF file to make sure it is in A4 size and the scan quality meets your requirements.



Info:

Please note that the exact steps may vary depending on your scanner's software and hardware. Refer to your scanner's user manual for specific instructions. In addition, even after converting to PDF format, you can adjust the page size if necessary via PDF editing software such as Adobe Acrobat or other PDF editors.





FAQ 13: Updated on: 1 November 2023 19:25