To sharing files and printers on Windows 10 / 11, with people in the network so they can access from any room in the house, you can do this via advanced sharing settings in Windows 10!
Content:
1.) Open the advanced sharing settings in Windows 10 & 11!
You can find the advanced share in 
Windows 10 Control Panel
1. i.e.
Windows + R
and command: 
control
  (<< Open Control Panel)
2.
[F3]
key and
"share"
3. Now directly 
"Manage advanced sharing
Settings
"
in Windows 11 or 10
(
... see Image-1 Point 1 to 8
)
Quite simply under File and Printer Sharing, please click on Activate File and Printer Sharing and then click on Save Changes. (
... see Image-2
)
Info:
You can also: 
control.exe /name Microsoft.NetworkAndSharingCenter /page Advanced
 no one can remember this command.
(Image-1) Advanced sharing settings in Windows 10!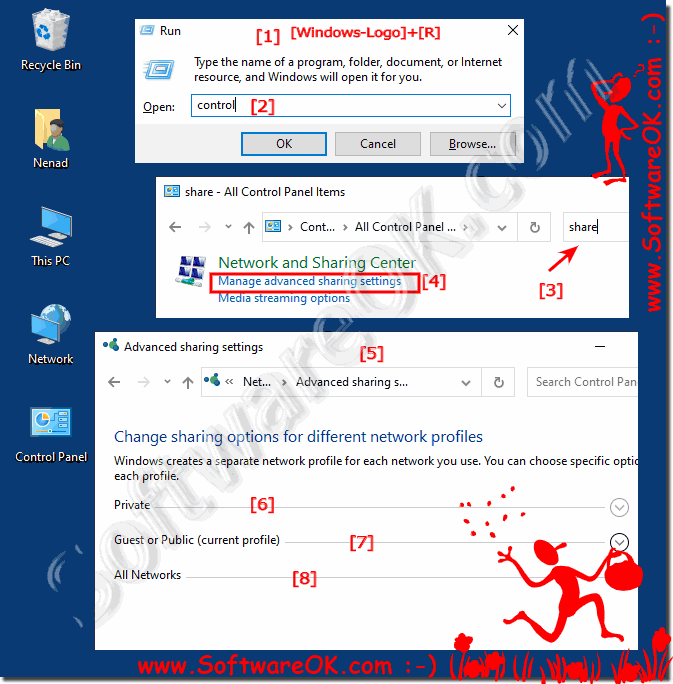 Connections to other computers in the home network group are usually managed on Windows 10. However, if you use the same user accounts and passwords on all computers, you can have the home network group use your Windows 10 account instead. 



(Image-2) Sharing files and printers on Windows 10!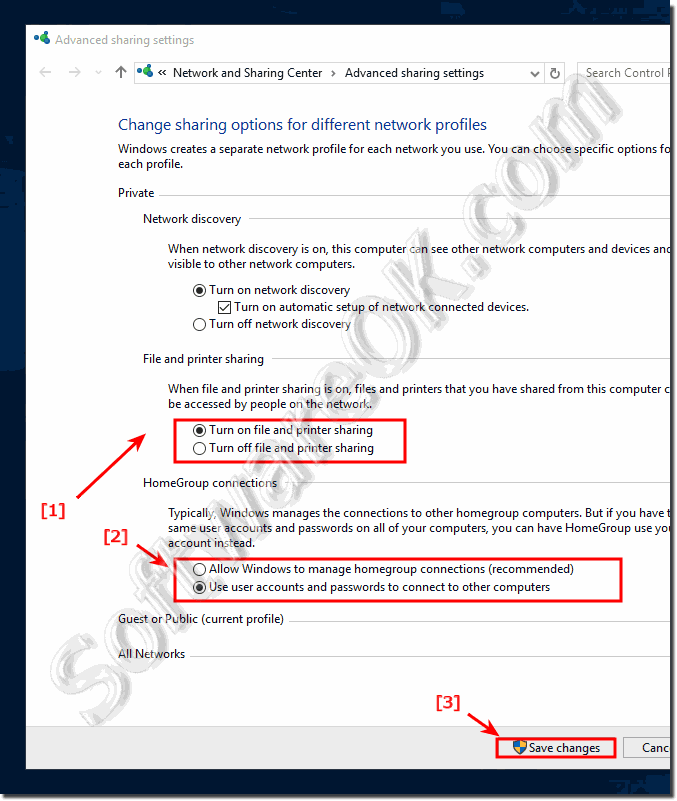 2.) Set up folders for everyone in the network Share under Windows 10! 
1. Please start the MS-Explorer for example with
[Windows-Logo] + [E]
keyboard shortcuts.
2. Navigate to the folder and open the selection menu with the right mouse button!
3. In the
context menu
go to (select)
Properties
and select the
Security 
tab
4. Click the
"Edit ..."
button 
(Image-3) Folder everybody permissions Windows 10 (free for all)?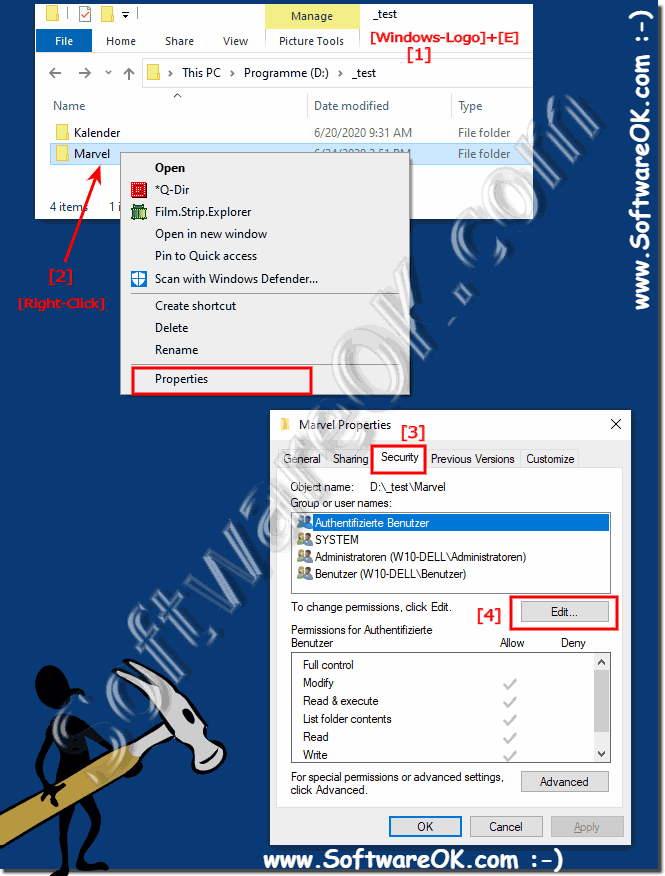 3.) What should I watch out for in the advanced sharing settings?
If you have a printer attached to one of your Windows-10 PC, you can print to it from any PC connected to your wireless or LAN network. The easiest way to share a printer is to select the Printers check box when you set up the Windows 10 Homegroup. 

Known error / problem with NAS:
 




(Image-4) change advanced sharing settings in Windows-10!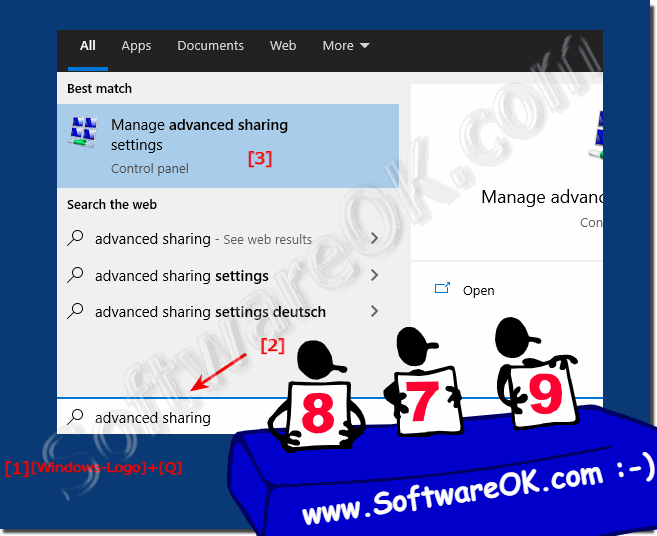 Network detection in the Windows operating system is a network setting that allows you to determine whether other computers on the network can see your computer or whether your computer can find other computers and devices on the network. When network discovery is enabled, sharing files and printers over a network becomes easier.





4.) What do I have to consider about the advanced sharing settings in Windows 11 and 10?




Advanced sharing settings in Windows 10 and Windows 11 are important for ensuring your files and folders are shared securely and efficiently in a network environment. Here are some things to keep in mind:





Select network profile:
Make sure your network profile is set to Home or Work if you want to share files on a local network. Public network profiles are less secure.

Access Control:
Use access controls to control who can access shared files and folders. You can grant read or write permissions to specific users or groups.

Sharing options:
When sharing folders, you can choose whether other users can view or edit files. Choose the option that suits your needs.

Password protection:
You can password protect shared files and folders to ensure only authorized users can access them.

Guest account:
Disable the guest account if you do not want non-logged in users to be able to access shared resources.

Sharing monitoring:
Enable sharing monitoring to see who has accessed your shared files and folders. This can be helpful in security monitoring.

Firewall settings:
Make sure your Windows firewall is configured to trust the networks on which you want to share files. Otherwise, the firewall may block file access.

File and Printer Sharing:
You can also enable file and printer sharing in the advanced sharing settings. Make sure this option is configured according to your needs.

Permissions:
Check file-level permissions. Even if you share a folder, individual files within the folder may have different permissions.

Security awareness:

Inform users who access shared resources about safe practices, such as: B. setting strong passwords and only sharing files with trusted users.





It is important to note that correctly configuring sharing settings in Windows helps ensure the security and integrity of your data in a network environment. Review the sharing options carefully and adjust them according to your needs and security policies.





FAQ 125: Updated on: 26 October 2023 09:41