Under Microsoft's Windows 10 and 11, you can
easily improve keyboard working

and make working easier!



Like other Linux operating systems, Appel's Mac, Android, ... keyboard customization is very important, even if you work under Windows to work fast, whether it's a plain desktop PC, or the modern Microsoft Surface Pro, here's one few tips!


Content:


1.) Adjusting the Windows 10 and 11 keyboard via Ease of Access Center!
Please start the 
Windows 10 or 11 Control Panel
 , for example Windows + R keyboard shortcuts and the command 
control.  
If you have not already placed the  
Windows 10 / 11 Control Panel on the desktop
! 
Type 
"easier"
 in the search field 
and open 
"Change keyboard functionality"
Here you can improve keyboard work.
The switch-on delay can also be activated or deactivated here 

(... see Image-1)
(Image-1) Improve working with the keyboard on Windows!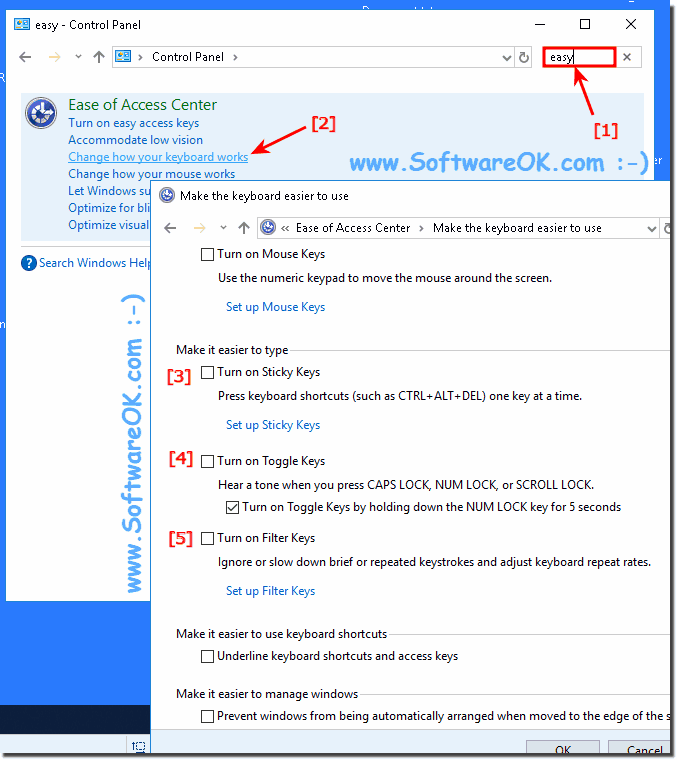 2.) Other possibilities of keyboard customization under Windows 10 / 11!
Another option is hidden in Windows 10 / 11 keyboard properties, but no less important to use the keyboard as personally as possible. 
Simply open shortcut keys [Windows + R] and the main.cpl keyboard command! 
Now you can easily change the delay of the keyboard and the refresh rate. 
Tip:
Shorter delay = faster keyboard and higher refresh rate.
If necessary, you can adjust the Windows 10 cursor speed flashing frequency.
(Image-2) Improve working with the keyboard on Windows 10!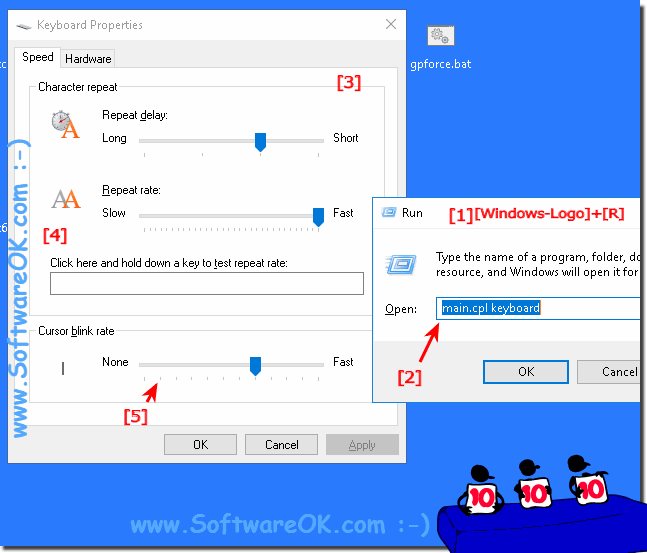 3.) What should I consider when adjusting the keyboard under Windows!
This short explanation includes steps to change and how the keyboard works on Windows 10 / 11. 
It should be noted that some programs have and use their own keyboard rule, and changing the Windows keyboard settings does not always affect third-party software.  
Fortunately, it is not often the case. 
FAQ 226: Updated on: 25 August 2023 14:11