Potentially unwanted apps are also blocked under Windows 11, as under Windows 10, if they have not been deactivated!



If you want to be sure that this option is active, you can check yourself at any time whether this protection is activated in the Windows settings in Windows 11 Security!




1.) The blocking option for applications, APP, programs, ... under Windows 11!
1. As always: ►  open the Defender settings 
( Windows + R and  explorer.exe windowsdefender://settings/ )  

2. Check and adjust the "reliability-based protection" to

(... see Image-1 Point 1 to 4)

Please note that older programs may be blocked more quickly or can no longer be started under Windows 11!  




(Image-1) With Windows 11, potentially unwanted apps are blocked!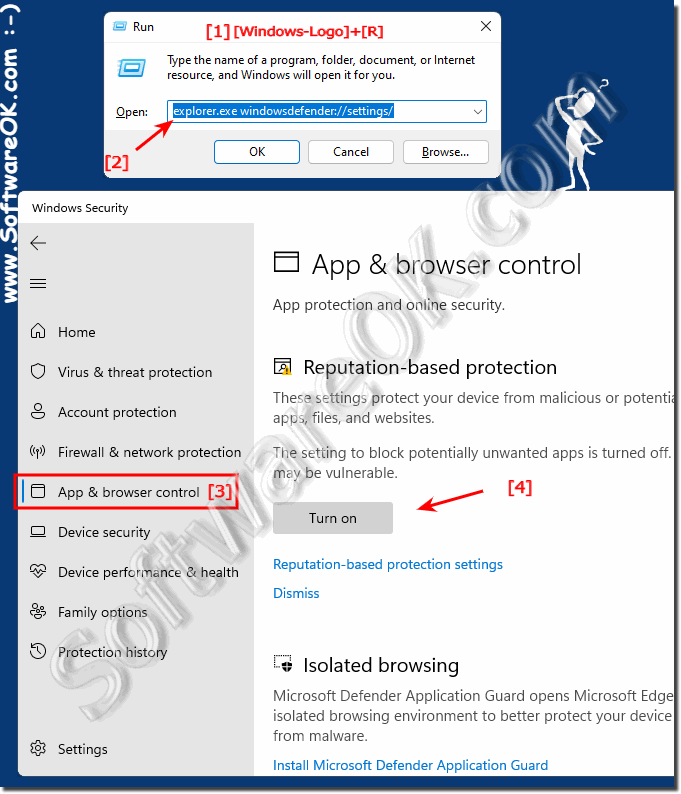 2.) More information about Windows 11 security! 
Security aspects are also an important point under Windows 11 and should not be neglected. Windows Security is built into Windows 11 and includes the free antivirus program known as Microsoft Defender Antivirus. In previous versions of Windows, Windows Security was called Windows Defender Security Center.



More information about potentially unwanted apps blocked on Windows 11!

What are Potentially Unwanted Apps (PUA)?

"Potentially Unwanted Apps (PUAs)" are software applications that can perform unwanted or harmful activities on a computer, but are not directly considered viruses or malware. In Windows 11, Microsoft has introduced some features to protect users from such apps.

Potentially Unwanted Apps (PUA) are software applications that are not necessarily harmful, but may still be unwanted. These include, for example: adware that displays unwanted advertisements, browser hijackers that change the browser's default settings, rogueware that pretends to be a legitimate antivirus program, software that is installed without the user's consent.

How are PUAs blocked?

Microsoft uses a number of methods to block PUAs. They use a database of known PUAs to detect and block them. Microsoft analyzes application behavior to detect PUAs that do not behave like legitimate applications. Microsoft uses user feedback to detect new PUAs.

What happens if a PUA is blocked?

When a PUA is blocked, it is moved to quarantine. The user receives a notification that the app has been blocked. The user can remove the app from quarantine by marking it as safe.

What are the benefits of protecting against PUAs?

Improved malware protection: PUAs can sometimes contain malware. Blocking PUAs can reduce the risk of malware infection. PUAs can sometimes collect data or take over user accounts. Blocking PUAs can improve privacy. PUAs can sometimes affect computer performance. Blocking PUAs can improve computer performance.


PUAs protection is an important feature that can help protect the computer from unwanted software. Protection is enabled by default in Windows 11, but can be configured as needed.




It is important to note that blocking PUAs can help protect your system from unwanted software and possible security risks. However, be careful not to accidentally block legitimate applications. Make sure you know what apps are installed on your system and check your security settings regularly.





FAQ 117: Updated on: 13 October 2023 11:48