It's easy to hide cursor while typing on MS Windows 11 or Win 10 PC!


Many people are bothered when their mouse pointer blocks the view of the text field, especially when they are typing text. If this is the case, you can hide your cursor as you type using one of two methods on your Windows 11, 10... PC. Tools like  ... AutoHideMouseCursor for Windows are not always required!





1.) Hide cursor Activate in the Windows 11 settings!
1. Open the Settings app on your PC. Press Windows + i to do this quickly

2. On the left pane, click "Bluetooth & Devices"

3. On the right side of the window, scroll to "Mouse".

4. In the "Mouse page" simply select the "Additional mouse settings" section.

5. Then the classic cursor / pointer options open  

(... see Image-1 Point  to 4) 

To hide your cursor with the integrated option, continue as under 
►►... hide classic cursor Activate



(Image-1) hide cursor while typing in windows 11 or 10!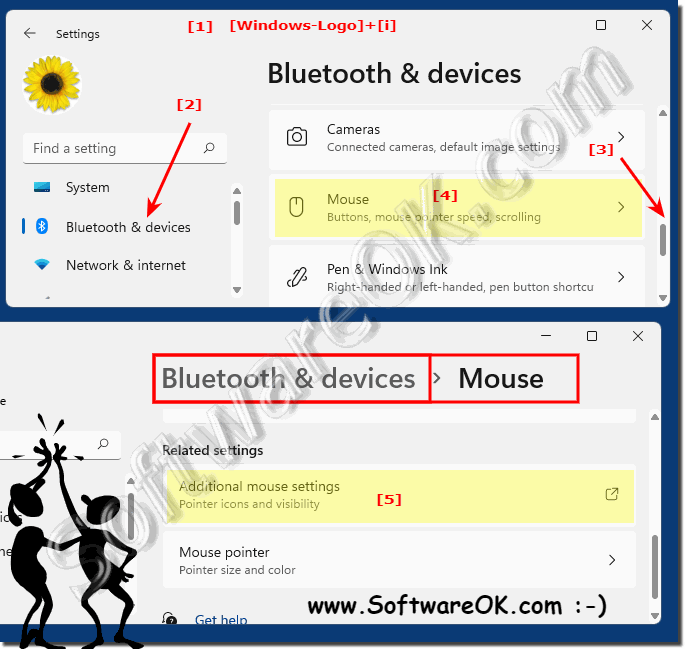 2.) Hide classic cursor Activate in the Windows Control Panel!

1. Shortcut Windows + R 

2.   Use  the command control and the term mouse in the search field

3. Click on mouse and select  the Pointer Options tab

4. Now simply activate the option "Hide pointer while tipping" 

(... see Image-2 Point 1 to 7) 

5. Then click "Apply" and/or "OK" button.




(Image-2) Hide mouse cursor while typing in windows in control panel!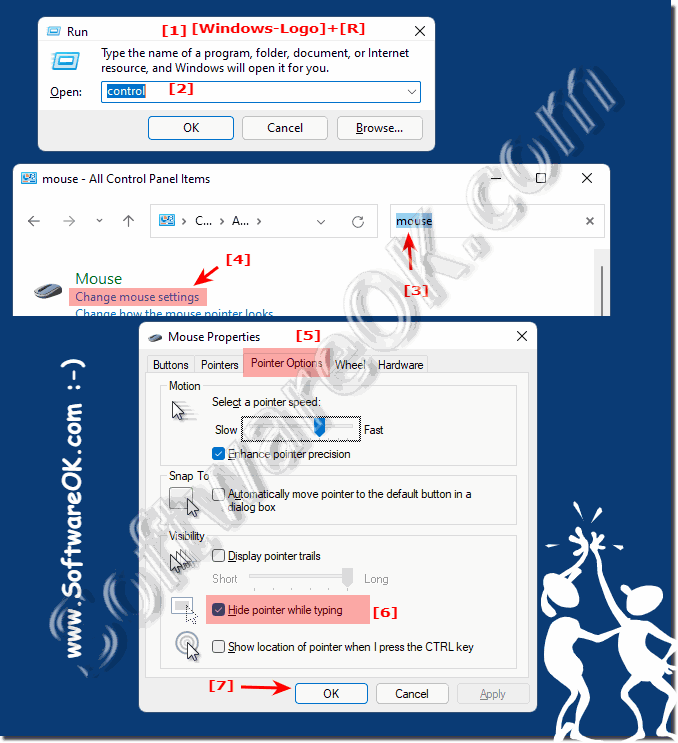 Various mouse settings appear on the Pointer Options tab. Here, in the "Visibility" section, simply enable the "Hide pointer when typing" option.




3.) Why is it useful to hide the cursor while typing?
The auto-hide mouse cursor feature is a very useful desktop tool when the cursor bothers and annoys you. This often happens, for example, when working with word processors, since the cursor usually hides in the text input area and the typed text when entering text. So, if you want to see text clearly in Word or other programs, you can try this setting.


4.) Tip if hiding the pointer on MS Windows 11 doesn't work properly! 
If you have problems with hiding the Windows mouse cursor, or if you just want to test an alternative mouse cursor hiding tool on Windows out of curiosity, or even want to test it on the Windows TV television, since there are already televisions with a PC connection, or Mini PCs running Windows 10 out there will definitely be satisfied with this mouse cursor hiding tool for Windows.


►►  The automatic hide tool of the mouse cursor under Windows!





(Image-3) Auto hide cursor while typing on all MS windows OS!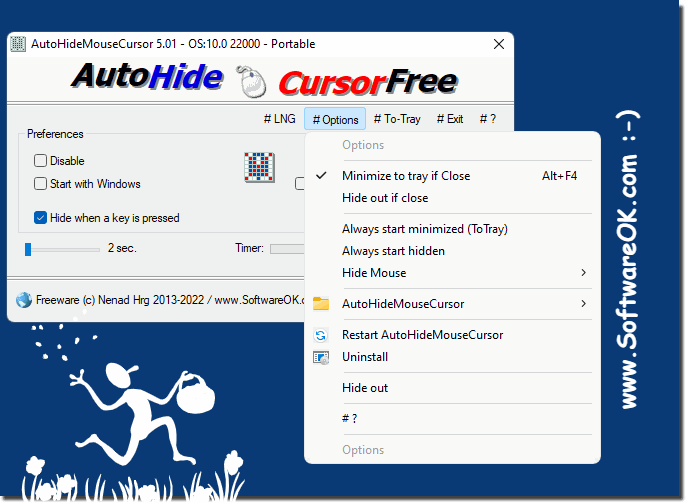 FAQ 193: Updated on: 18 May 2022 19:06