The fastest way is via the device pairing wizard to connect additional peripheral devices under Windows 11 and 10!


With this wizard, however, printers, scanners and other peripheral devices in the WiFi area or LAN can also be recognized directly and connected to Windows 11 without any detours.


 



Content:



1.) Use Device Pairing Wizard for Windows 11!
1. Simply confirm Windows + R keyboard shortcut and the DevicePairingWizard.exe command 2. Directly search

for peripheral devices wanted 

3. You can also connect the peripheral devices directly and have the driver installed automatically




(Image-2) Use Device Pairing Wizard for Windows 11 peripheral devices!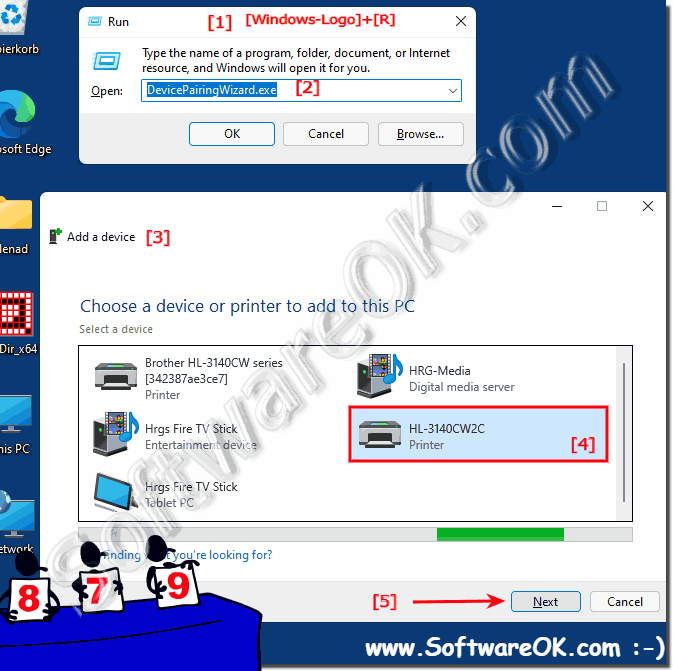 2.) More tips on peripherals, devices, ... and so on MS Windows OS!
Peripheral devices and the like are essential for working with all Microsoft Windows desktop and server operating systems, so it is all the more important to set them up correctly and understand them ... etc. in order to be well prepared in the event of problems and even to prevent complete system failures. Here is more information that might help you!





Peripherals are external devices or hardware components that are connected to a Windows computer to extend its functionality, transfer information, or allow the user to interact with the computer. These devices are not an integral part of the Windows 11 computer itself, but rather complement it.

 

Peripherals extend the functionality of the computer and allow users to interact with it in different ways and complete tasks. Depending on individual requirements and intended use, various peripheral devices can be connected.



FAQ 35: Updated on: 24 September 2023 15:19