Activating or deactivating the mouse trails / tracks in MS Windows 11 OS is a very quick affair!



Content:

1.) The mouse trail in MS Windows 11
As always, open the Windows 11 Control Panel  by clicking on the Mouse icon! Or open the Windows 11 mouse settings with the keyboard shortcut Windows + R and the command main.cpl .

Now mark the tab and activate or deactivate the mouse trails in Windows 11 in the Visibility group box!

(... see Image-1 Point 1 to 5)

If the mouse tracks are too short, use the ►  Magic Mouse Trails for Windows 11 !



(Image-1) Easy activate / deactivate the mouse trails on Windows 11!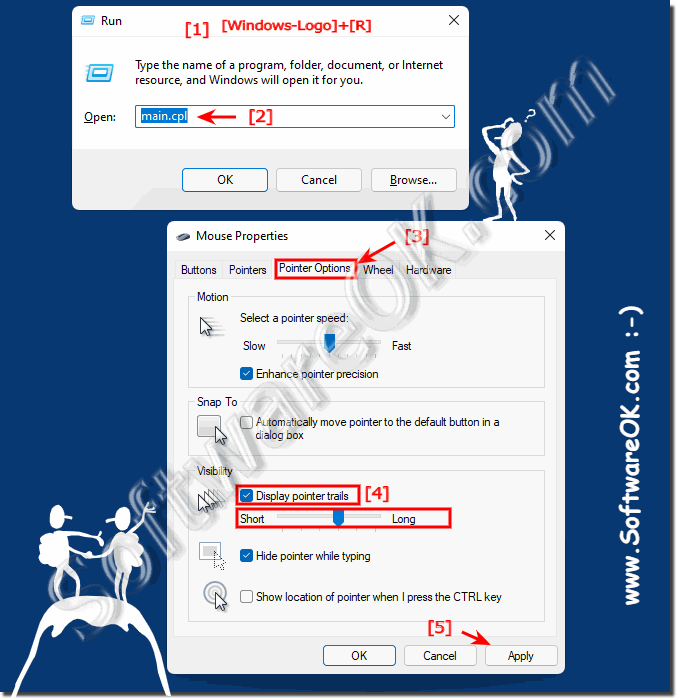 2.) More tips for the mouse and co on MS Windows 11!
The mouse is also one of the most important peripheral devices in Windows 11, unless you are working on a touch screen without a mouse. Quite rarely, however, problems with the mouse under Windows 11 cannot be ruled out and it happens again and again that you simply cannot solve the problem, or you have simply forgotten the solution. Here you will find more tips on mouse and similar topics in Windows 11 that may help you to avoid problems or simply learn something new that you did not know.











FAQ 70: Updated on: 26 August 2023 06:45