If the Windows 7 online activation is not possible, you can
activate Windows 7 via phone system

!

Content / Solution:




To use the licensed version of the operating system without its official purchase, you need to know how to activate Windows 7 by phone (telephone, smartphone, iphone). This will allow you to safely download any programs from the Internet.  
1.) Start phone Activation!
Please start the cmd.exe in administrative mode!

See the Windows-7 FAQ-23: ... Start the Windows 7 cmd.exe in administrator mode!

In the cmd.exe, execute "SLUI 4" (execute= Press [ENTER])
(... see Image-1)




(Image-1) Activation via phone system!

2.) Select the Country for phone Activation!


And then "Click the nearest location" for activation via phone system (Image-2)!

Then you can see (See Image-3) the phone number and get a confirmation ID!



(Image-2) Click the nearest location!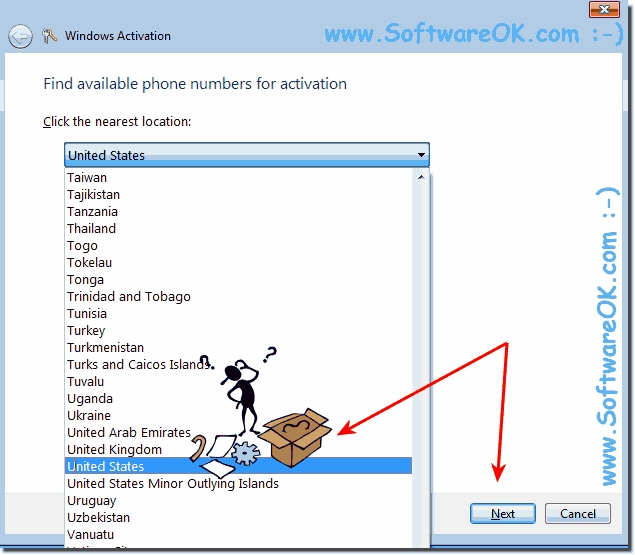 3.) The confirmation ID for the phone system!



Step 1: To get a confirmation ID, call:
Step 2: Follow phone system instructions to enter the installation ID:
Step 3: Type the confirmation ID the phone system gives you:




(Image-3) get a confirmation ID, call!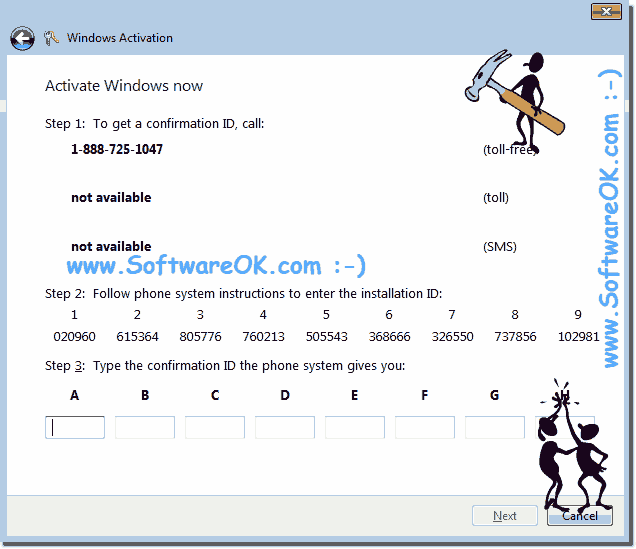 Activation helps verify that your copy of Windows is genuine and that it has not been used on more computers than the Microsoft Software License Terms allow. In this way, activation helps prevent software counterfeiting.

FAQ 37: Updated on: 2 June 2022 19:41