The solution is simple to set the default printer for all windows 10 and 8.1 programs!
Everyone is familiar with the function of how to
cancel all print jobs,
 but if you want to change the default printer for all Windows Desktop and MS Server OS!
Set default printer on all windows Desktop and Server OS!



1. Please start the RUN-Dialog Keyboard Shortcut [Windows-Logo + R]

2. Enter the Command shell:PrintersFolder

3. Choose the printer you want to be the default for Windows Programs

4. Click with the right Mouse and select the option "Set as Default Printer" (... see Image-1 Arrow-1 & 2)

Tip: You can also use the command: control /name Microsoft.DevicesAndPrinters 





(Image-1) Set the default printer for the programs in Windows!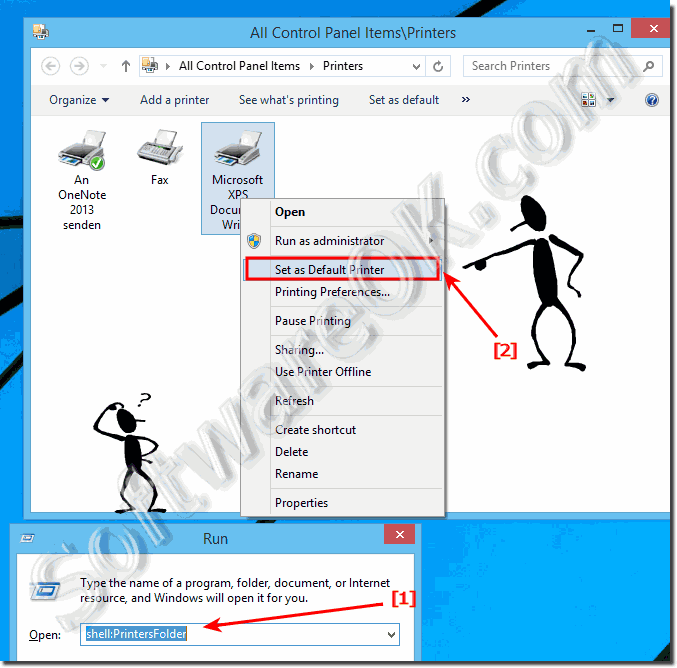 Info by (c) Microsoft!
You can change a printer's default printing preferences only if you have the Manage Printers permission, which is one of several printer permissions. 

Open Printers and Faxes. Right-click the printer for which you want to set the default printing preferences, and then click Properties. On the Advanced tab, click Printing Defaults. Click the Layout and Paper/Quality tabs and the Advanced button to see the available choices, and specify the new default settings. Notes

To open Printers and Faxes, click Start, point to Settings, click Control Panel, and then double-click Printers and Faxes.

The preferences you set become the default settings for any user who connects to the printer. These preferences include the page orientation, the tray from which paper is fed to the printer, and the number of copies printed. Individual users can customize these settings by right-clicking the printer in Printers and Faxes, and then clicking Printing Preferences.

You can also open printer properties in Printers and Faxes by clicking a printer, and then clicking Set printer properties under Tasks on the left side of the window. This option is available only if folders are set to look like a Web page and a printer is selected.



FAQ 196: Updated on: 12 May 2020 20:29