It´s easy to find and start the Windows-8 / 10 On-screen keyboard
1.) Start the Windows on-screen keyboard quickly! 
To start (run) the Windows-8 and 8.1 On-screen keyboard,

1. please press the key combination [Win-Logo]+[R],
2. then simply enter the command osk

(... See Image-1 Point 1 and 2)!

Confirm the onscreen keyboard command with [ENTER], this command will open the screen keyboard on the Win-8 and / or Windows 8.1 Desktop ( ... See image-1 Point 3 )




After the first start of Windows 8 and 10, it is the users who often use the on-screen keyboard, looking for this, this does not need to be extra installed, or downloaded, the on-screen keyboard is just a bit more hidden, this solution example You also use Windows Server 2012 and 2016!
2.) The settings of the Windows on-screen keyboard! 
After starting the Windows on-screen keyboard, you can also disable / enable some settings, such as the Windows click sound!
And other options such as, ease of navigation in the screen display buttons, use text prediction, insert spaces behind predicted words, etc ...
(Image-2) Onscreen keyboard Options!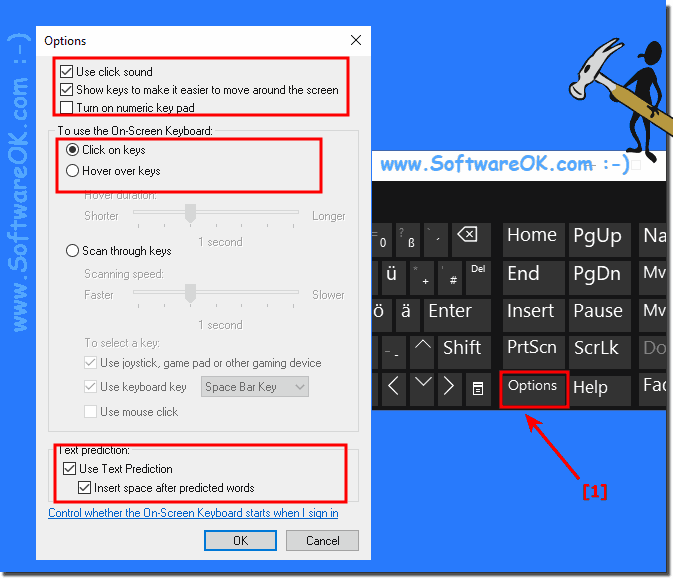 You can use this virtual input device so that it does not depend on the physical hardware for entering text and data. This virtual input device ensures a visual possibility with all standard buttons. You can tap directly on the monitor using the mouse, or using a touch screen, or you can use a single key, or a group of keys, to toggle between the keys on the screen.
3.) Desktop shortcut for the Windows on-screen keyboard! 
If you often use the on-screen keyboard, you also want to create a desktop shortcut for the on-screen keyboard on the Windows desktop, so it's even faster to reach!  
Press the 
Windows logo + D
 key combination 
 to focus the Windows 10 desktop!
Right-click on an empty spot on the Windows desktop and select 
"New"
 , option 
"Shortcut"  
Just enter
 the full path  
C:\WINDOWS\system32\osk.exe
  and name 
OSK
 or on- 
screen 
keyboard
 . 
(Image-3) On-screen keyboard on Windows Desktop!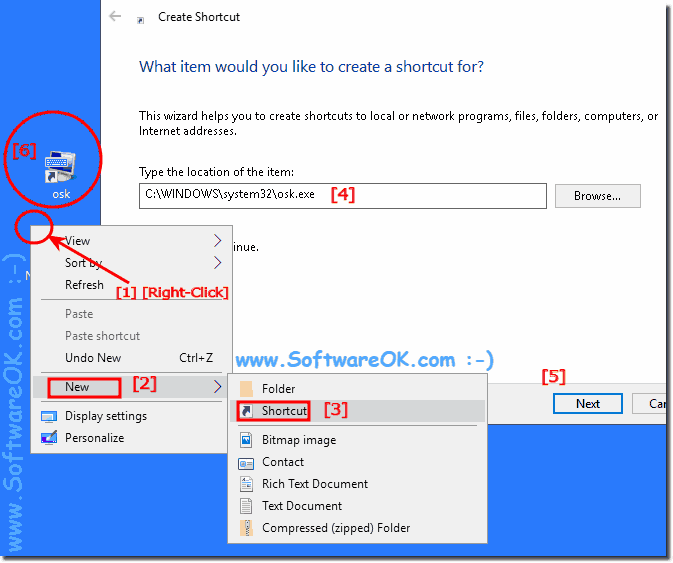 4.) Start the on-screen keyboard automatically at login, z, B, for tablets and MS Surface! 
If you want the screen keyboard to appear on screen immediately upon login, please open the:
shell:startup  directory! 
(Image-4) on-screen keyboard at Windows Login!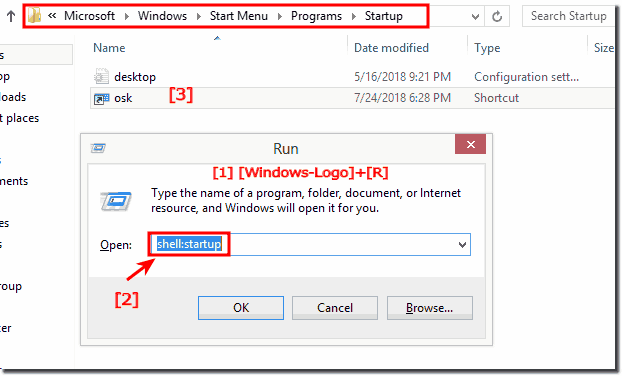 5.) If the Windows on-screen keyboard does not want to start!
It happens that the on-screen keyboard hangs, because it is only a program, it can happen, this is a restart of the PC, or the restart of the osk.exe via the Windows Task Manager to remedy.
If the file is corrupted, the Windows System File Checker is the correct Windows tool to restore the original versions of the damaged osk.exe files.  
FAQ 35: Updated on: 2 March 2021 08:12