With new tiles in the start or buttons on the desktop, you can shut down Windows quickly or restart it on all Microsoft OS 11, 10, ...!
Everyone wants to shutdown the PC in a comfortable way, or alternatively via the tiles in the start menu or via desktop buttons, or even restart it, if it is not the pointer-controlled shutdown / shutdown, the manual shutdown without software, very practical, who
always saves the desktop icons
!
Content:
1.) Create shortcut for shutdown / restart! 
1. Right click on the Windows 10/10 desktop
2. Select
New
,
shortcut
3a. for shutdown:   
%windir%\System32\shutdown.exe /s /t 0
3b. for quick log off:  
%windir%\System32 \ shutdown.exe /l /t 0 
3c. for the restart: 
 %windir%\System32\shutdown.exe /r /t 0
(
... see Image-1 Point 1 to 7
)
Or download
.... Restart_Shutdown_Logout_Sleep_Windows-10.zip
PS:  
All options are nicely summarized here as instructions, due to frequent requests regarding shortcuts, i.e. as an icon on the desktop,
desktop users who love tidiness 
particular are enthusiastic!
(Image-1) Shut down, restart, in the Start and on Windows Desktop!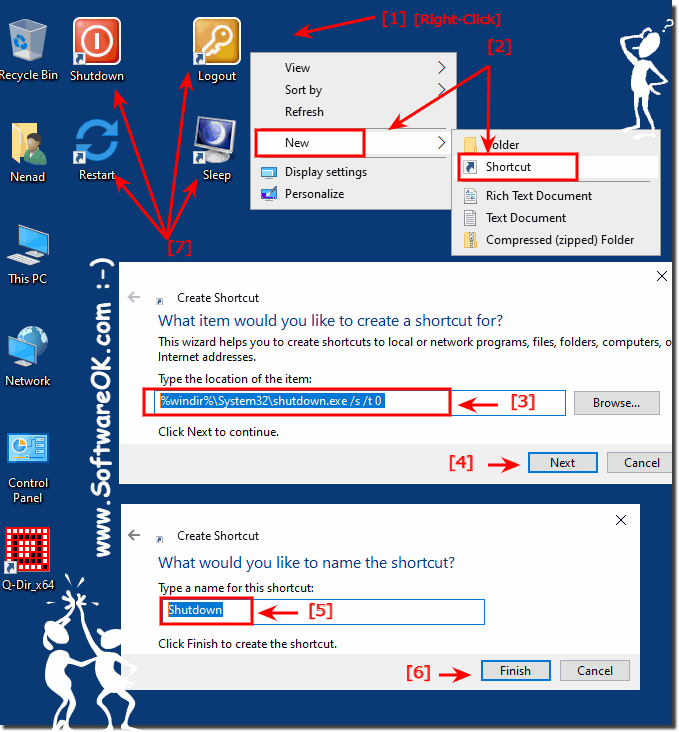 2.) Attach shutdown / restart to the Start tile on MS Surface or ... ! 
PS: With Windows 11 it looks different but works the same way!
Right-click on, for example, "Restart" and select the Pin to Start option 
Repeat the process for all the buttons you need in Windows!
Then just press the Windows logo key to drag and drop the individual buttons! 
(
... see Image-2 Point 1  to 3
)
PS:
There are several ways to shut down under Windows, it is practical to use these as tiles in the start menu because they are nice and large. As you can see, the tile surfaces that you encounter regularly are well suited for shutting down Windows systems, for quickly shutting down and restarting Windows and the effort is really low to put them on!
(Image-2) hut down, restart, in the start menu as tiles!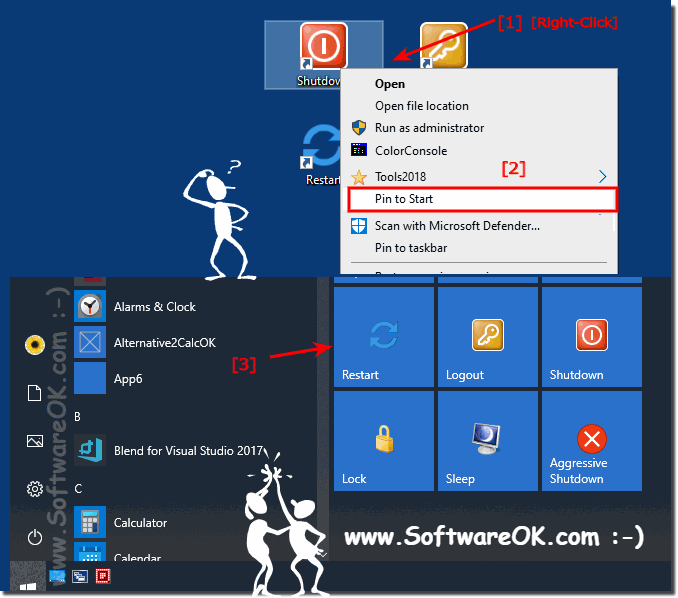 3.) What should I watch out for when shutting down or restarting the Windows PC?
When shutting down the computer on Windows PCs, a lot of processes run. Those who value privacy activate a hidden setting, it is advisable to shut down the PC regularly with Windows, not only to save power, even when the computer is not doing any tasks must, or has a server role, it does not have to be switched on.
The correct restart is better on the computer, here it empties the working memory!