The solution Windows 10 / 11 Desktop not showing, why, what can i do or Desktop gone  what to do?!
Are all the files on your desktop gone? Do not panic: we'll show you how you can possibly
restore the icons
. Please test for background tools like
Auto-Hide-Desktop-Icons
.The solution example is for all W10 MS OS whether it's a Windows desktop, desktop on tablet-PC, Surface Pro / Go, or even a server 2019 operating system. It has been tested on all MS OS and successfully
verified
.
Please also check: ► 
Desktop icons and shortcuts are not displayed
!
1. Please use the key combination [Win-Logo]+[D] to see the Windows-10 desktop.
2. And open the window "Desktop Icons Settings" via
Windows-10 Run
Windows+R
and the command
desk.cpl ,,5
. 
3. Enable the desktop icons for Window-10 Desktop, in the window
"Desktop Icons Settings"
(
... see Image-1
) all what you want to see on
the Windows 10 / 11 Desktop
.
Follow these steps to add shortcuts to your Windows 10 desktop: 
► 
Create desktop shortcut in Windows 10 for a program
!
(Image-1) My-Computer Control-Panel on Windows-10 Desktop!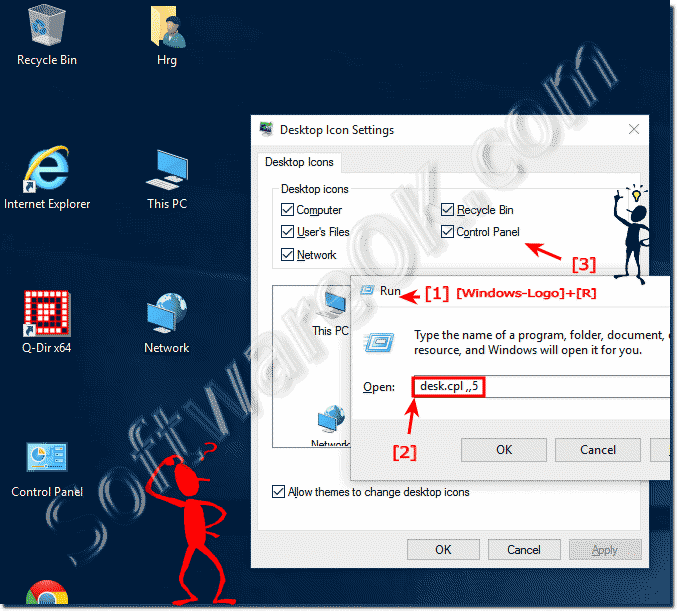 Info:
In the Desktop Icons Window, select the check box for each icon that you want to show on the desktop. un-check the check box
for icons ergo desktop Symbols
that you don't want to see on the windows 10 desktop, and then click Apply or the OK button. What can I do if I still have problems when "
Windows 10 Desktop not showing
" is a frequently asked question Restart the Windows operating system, 
please perform a proper Windows reboot
.