The solution to activate Seconds display in the Task-Bar of Windows 10 Desktop!
The Windows 10 / 11 Taskbar clock can accurately display the exact time to the second.
This feature requires a registry hack and works on Windows 10 / 11, whether in the Windows 10 / 11 Home and Pro OS, it has been tested and successfully verified at MS 10 / 11 OS. At any Problems please do a Windows 10 restart, please perform a correct Windows restart. Instead, Windows 7 users need a third-party utility to do this for example digital desktop clock.
  

Simply
create
the DWORD
"ShowSecondsInSystemClock"
in the registry under:

HKEY_CURRENT_USER\Software\Microsoft\Windows\CurrentVersion\Explorer\Advanced

And set the DWORD value to 1! (... see Image-1 Point 1 and 2)


(Image-1) Activate Seconds display in Task-Bar of Windows 10 Desktop!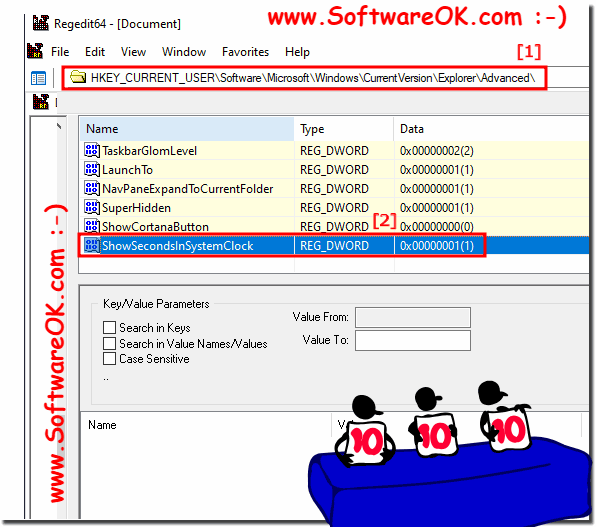 This tip set the ShowSecondsInSystemClock value exactly as described here.
When you run the "Show seconds in the system clock" trick, the ShowSecondsInSystemClock value is set to 1.
If you want to run the "Remove seconds from the system clock" trick, simply delete the ShowSecondsInSystemClock value from your registry.
If you get curious about what these or other .reg files do, you can right-click and select Edit to see their contents in the editor.