If at Auto-Update the status: Downloading - 100% hangs under Microsoft Windows 10!
This is an undisclosed check by the virus checker, through which Defender, who is in a hurry, can
disable the Defender at short notice
, or just wait.
Some computers require more space on the C:\ hard disk. 


 

A restart of the computer brings only limited what, the W10 1903 must then be downloaded again.  

Occasionally it comes after that:
Status: Will be downloaded 98% Windows 10 hangs!
( ... see picture-2 )
Here you should keep calm and wait!



(Picture-1) Windows 10: Being downloaded hangs at 100 percent!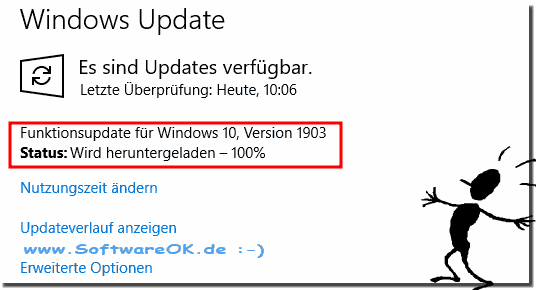 Info:

Status: Downloading - 100% under Windows 10 as you can see in the screenshot shot in Windows 10 above is not uncommon, you can usually complete the upgrade with Disk Cleanup without any problems, no matter if it's a Windows desktop , Tablet, Surface Pro / Go, or even a server operating system.



(Picture-2) Status: Downloading - 98 percent Windows 10 hangs!