To display system volume information in the Quad-Explorer view, the free file manager must be started with administrative rights or admin mode on Windows OS!
Especially with administrators on Microsoft Windows Server popular system volume information access is easy to implement here, because the server administrators also like to work quickly and quickly without losing much time, this is an optional way to be able to do administrative tasks, so less for what the standard users on Windows 10, 8.1 
1.) Access to System Volume Information in the Quad Explorer! 
Please start the File-Explorer in Admin mode and activate the option:
► Enable Privilegs eg "System Volume Information"
▼ Main menu ▼ Extras ▼ System ► Enable Privilegs eg "System Volume Information" !
(
... see Image-1
)  and (
... see Image-2
)
If not needed, the option should be disabled, see: ►
Windows-10 all apps folders (open, find, delete)
?
Please use 
... if possible the latest Q-Dir file manager version
!
(Image-1) Start the File-Manager in Admin Mode!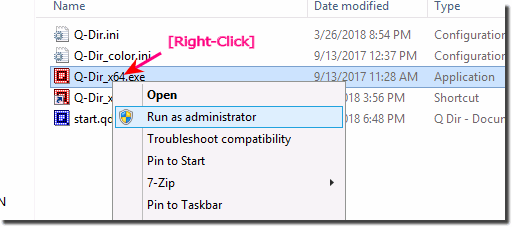 (Image-2) Show System Volume Information in Explorer View!


2.) What should I watch out for when accessing System Volume Information in Explorer?
This access, which is designed with admin and system rights, is only for
administrative tasks
 and is therefore a preferred MS Server administrators file access that have years of experience and therefore also know what to do without damaging the Windows OS, i.e. from the advantages of System access benefit without causing the Windows operating system to fail completely!