If you save a new layout setting, saved desktop restores that work reliably will be not overwritten when you save them. For example, if you want to have a new sort saved we will give you a new name. Thus, the previous / previous Icon Layout storage by
DesktopOK
will not be overwritten.
Content:
1.) Save Windows desktop symbol layout in the Ini File!
To save your current desktop layout, just click the Save button . The list box below will automatically be filled with a new entry . The name is the resolution by default and time is also recorded. If you want to customize the naming convention, click Options, and then click Save Options . You can add additional elements to the name. Eg the
user name
, the
PC name
etc. (
... see Image-1 Point 1 to 2
)
The
DesktopOK
ini file can be opened directly (
... see Image-1 Point 3 and 4
)
(Image-1) Save Icon Layout in * .dok file or * .ini!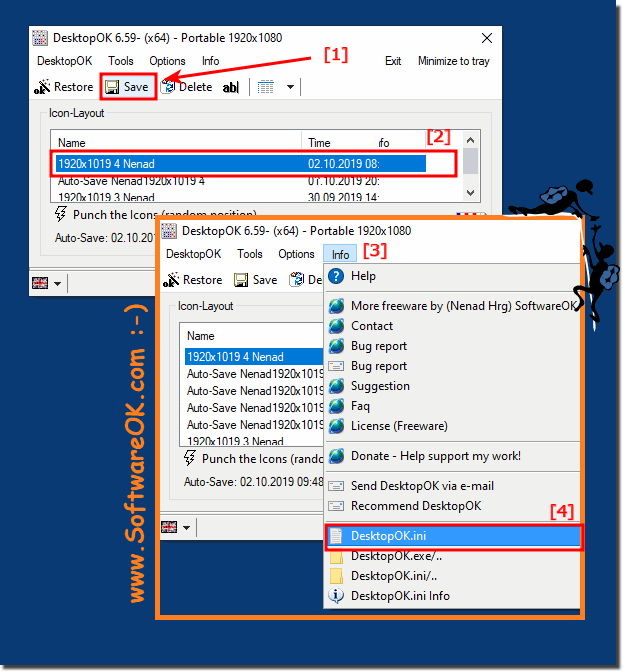 2.) Save Windows desktop symbol layout as a file!
With
DesktopOK
you can
save
the desktop icons as "*.dok" and reload the layout on the other PC!

You can create and restore multiple profiles in the *.dok File. To do this,

click on "Icon Save as" and "Icon Load from" (... see Image-2)

See also:
► Change Windows Desktop Icon Size and View ,plus save!
► Difference between Shut-Down Save and Auto Shut-Down Save!  


Image-2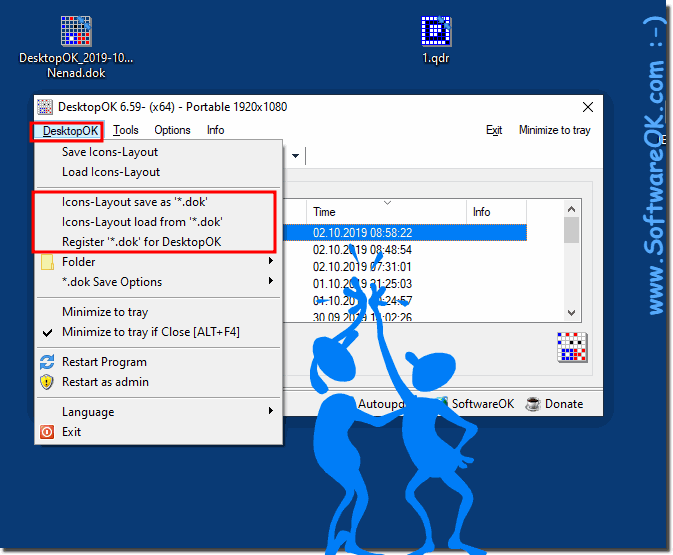 Desktop Restore feature especially useful if you change the resolution of your monitor more then often,
DesktopOK makes gamer in particular benefit from the tool.



Info:

I prefer this kind of behavior because sometimes I add a bunch of shortcuts to your desktop, but later delete them. Symbol Restore does not restore these deleted symbols, but retains the original positions of the other symbols.



3.) ... Reverse Date in File Name of DOK file!
(
... see Image-3
) 
User Question:
this is the name of a desktop-layout (example):
DesktopOK_15.11.2021_13-57-54_3840x2160
DesktopOK_dd.mm.yyyy_ ...
I would like to have the possibility to save this file in the form of
DesktopOK_yyyy.mm.dd_ ...
(Image-3) Save Desktop Layout in *.dok file or *.ini!