Find the DesktopOK save the file/data location when you do a Save in standard ICON LAYOUT save (List View)!
From 5.2xx Open the Ini Location (Icon Settings)! 
Stat the free Software 
DesktopOK
 go to ► Menu ► Info ► See Screenshot
DesktopOK work Directory (
... see Image-1 Point 2
) 
DesktopOK.ini Directory (
... see Image-1 Point 3
)   
See also: 
.... Save the DesktopOK setting in the Windows Registry
. 
Tip:
If you don't  start the DesktopOK from the Windows Desktop, at best create a separate folder for DesktopOK and unzip the DesktopOK.exe into this folder.

Open DesktopOK INI Location!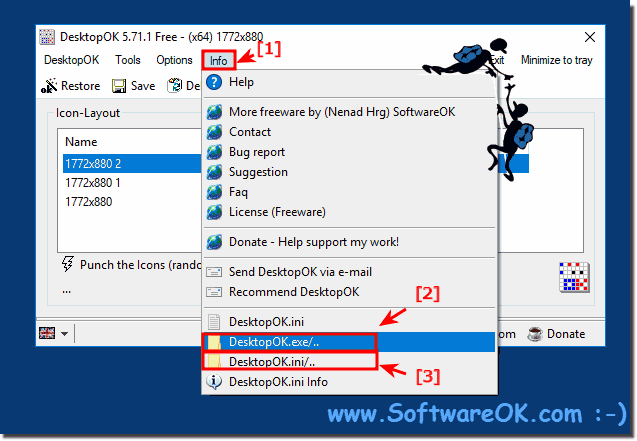 If you have a lot of time to read:

On the Windows desktop, you have arranged the icons according to a specific system. Each time you change the display using one of the submenus of "Arrange Icons" in the context menu of the desktop, Windows then resets the arrangement to the unclear standard setting. Even if you share the calculator and a single user account with other people, there's often trouble. After all, everyone has a different idea of ​​the perfect Windows desktop. You miss a feature to save icon positions.