Changing from focus to another view / Explorer on Windows 11, 10, 8.1, ... and Server 2019, 2016, 2012, ...!

Some users ask how you can switch between the views in Quad-Explore, here is a brief explanation of where you can find these two options, regardless of whether it is a Windows desktop, tablet, Surface Pro / Go, or even a server operating system.  


Content:
1.) Work in File Explorer with the tabulator key!
2. To the next Explorer use
Tab key
3. To the previous Explorer
Shift + Tab key
4. Ctrl + 1 to Ctrl + 4 = Explorer 1 to 4
tabs in Q-Dir:
► 
Button for new tab, all tabs except current close, all tabs close and current tab close
!
(Image-2) Change from focus to another Quaq Explorer View on Windows 10, 8.1, ...!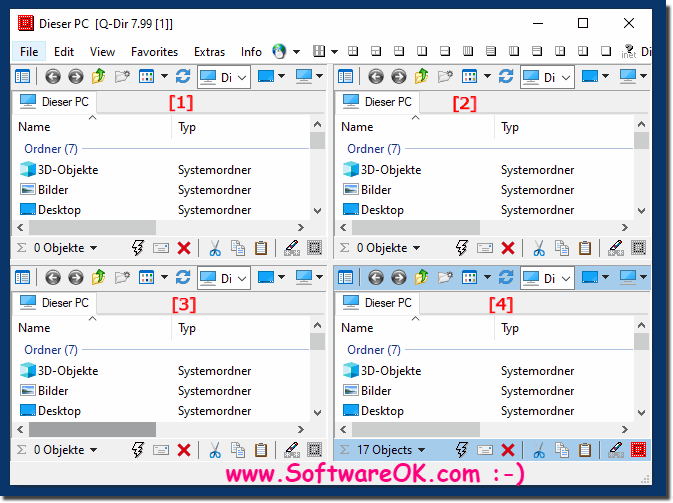 2.) What's the point of switching this through, well, into File Explorer?
Many Windows users like to use the keyboard. mostly to avoid the mouse as much as possible, working with the keyboard is very convenient and saves aiming the mouse on the screen! Aiming not only puts a strain on your arm, but it also gets on your eyes. Switching with the keyboard is usually much faster and gentler on the work for the user himself.
Of course, it is up to you whether you use the tabs to switch between the Explorer views or not, the function is definitely available too to be able to work without a mouse or with the mouse in File Explorer.