From 5.31 you can easily use the Windows 11, 10, 8.1, ... keyboard shortcuts even if you defined them in QTP!
Especially the Windows 10 and new Windows 11 is a master in the system keyboard shortcuts it uses itself, most of them are hardly or not all used, in order to be able to continue to use them, from version 5.31 this is possible with
multiple selections of commands
 here in example the Handy Windows + A
shortcut
that is very much used by me and other
QuickTextPaste
under Windows 10 or 11!
Windows System Use keyboard shortcuts by forwarding! 
If you use this keyboard shortcut as of 5.31, you can see the nice Windows butterfly with the name "Standard system command" appears with this you can forward the system keyboard shortcut to Windows.
Thus, the Windows 11, 10, 8.1, ... system keyboard shortcuts are not lost and you can still use them conveniently.
This is valid for all Windows keys such as for the Practical Windows + Q, Windows + W, Windows + E, Windows + R, Windows + S, .... These are often used by QTP users as they are very easy to use as shortcuts are to be operated with one hand!

See also: Texts with short individual additions via copy_text!


(Image-1) Continue to use Windows 10, 8.1, ... system keyboard shortcuts!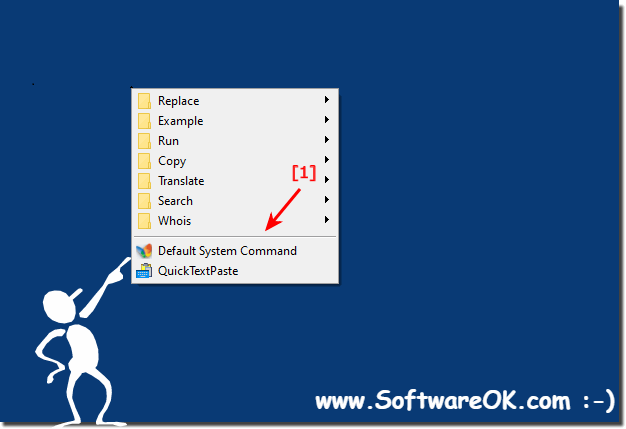 Lookup:
For a comprehensive list of keyboard shortcuts, visit
the Windows 11, 10 Information page
.
Microsoft has done a good job in Windows 10 because using the ALT and Ctrl keys in application menus is more consistent.
However, you may need to
 re-learn
the familiar  shortcuts in applications because the Ctrl key on touchpad has some slightly different purpose. This is displayed when a keyboard is needed on a touchscreen interface.
The keyboard shortcuts of the operating system remain largely the same as under Windows 8.1. 


Using the keyboard shortcuts can be very useful on Windows 10, as you can get to the desired location much faster or activate a function of your choice than to do it manually with the mouse pointer.
Nevertheless, some Windows 10 and 11 users had some problems with the activation of the key combination and are happy with  QuickTextPaste  without a long tutorial, the key combinations under Windows 10 or 11 without deactivation continue to use effectively and meaningfully.