The Download NoLockScreen.OK Disable and Enable the Lock-Screen Easy on Windows 10 and 8.1!
You can forget the Lock Screen problem now!
Download:  ... NoLockScreen.OK.zip   (< 50 KB) 
The NoLockScreen solution ergo is written for Windows 10 / 8.1. This screenshot has been made, snipped, created under Windows 10. However, NoLockScreen you can use this solution without hesitation disadvantages also for other versions of Microsoft's Windows 8.1 and 10 operating systems whether it's a Windows desktop, tablet, Surface Pro / Go, or even a server operating system. It has been tested on all and successfully
verified
.
(Image-1) NoLockScreen.OK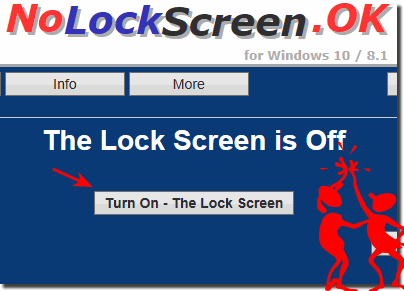 Info:

However, the lock screen can be permanently deactivated by a small intervention in the system. As a result, Windows 10 boots directly to the password and even after locking the screen you can see only the page for entering the password instead of colorful pictures with useless information. This tool has been updated for the Windows 10. If you have logged off in Windows 10 or have gone for block, then appears after the reactivation of the lock screen. But if you want to immediately have the selection of users and not have to first click or pull the lock screen with the mouse, then you can also disable the lock screen.