Notes on the desktop under Windows 11, 10, alternative to Short Note!

Update on: 8 December 2022
Suitable for : Windows 11, Windows 10, 8.1, 7, ... , Server 2012-2019, 2022, x64, x32, x86

For quick creation of desktop notes on the Windows desktop, with beautiful random options and various customization options. 


The desktop notes were created on user's request, mainly because of Windows 10, here it is only available through MS Store. In terms of privacy, users are skeptical here and demanded of me a pure desktop tool. As a portable and / or installable version!

Key features in the desktop notes program
◆ Multiple themes for desktop notes
◆ Random background and text color
◆ Optional transparency of desktop notes
◆ Changeable in size
◆ Custom background color


Other possibilities and specifications

◆ Very small program

◆

Low CPU usage

◆ Deactivatable via Totray

◆ Optional translation function
◆ Portable
◆ Freeware
◆ Multilingual


A very decorative Desktop Notes Program
Created on request of the user, I worked hard and equipped it with many setting options. It is really a very decorative alternative tool known as Sticky Note in Windows 7  tool, the basic functions: overall transparency, note size setting, as well as the selection of different fonts are available and can be customized.

According to personal needs and the ideas of the users, this Windows shortcut tool is extended even further.

Have fun with this nice notes tool that will definitely enrich the Windows desktop. With under 200 KB a very small software, which is not wasting space on the hard disk.



(Image-1) Desktop notes on the Windows desktop as a desktop program!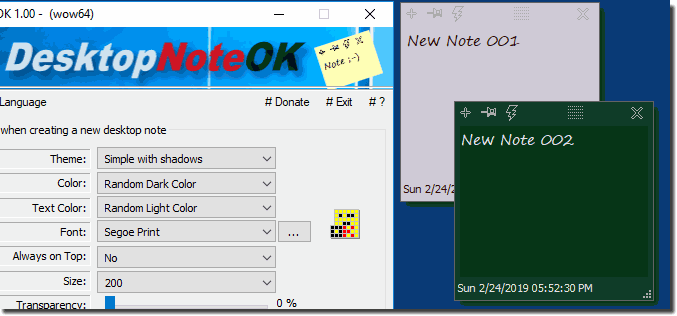 A simple example of using the desktop notes program
Start the DesktopNoteOK. The first time, the notes in "Random Background Color" are presented to you  on the desktop.

In Random Color, the desktop note is always generated in a random color, saving you the thought of "what color should the next desktop note have." Of course, you can turn off the randomness for the next desktop note color, if desired ,

In Text Color: Random Color Dark mode , the text in a random dark color in the desktop note is also randomly selected.
(Image-2) Random Color Desktop Note for Windows!


By changing the size of the note, you can set the default size of the note, as well as the desktop note transparency to the entire color game can also help to highlight the notes better.
I have prepared it with some nice features, but the options can be adjusted for every single desktop note later, but for many Windows users, it is an impertinence to have to adjust something each time and the user is bored when you have to deal with the program for a long time, until you can use it and change it.


(Image-3) Desktop Note OK via Info Area from Windows Task-Bar!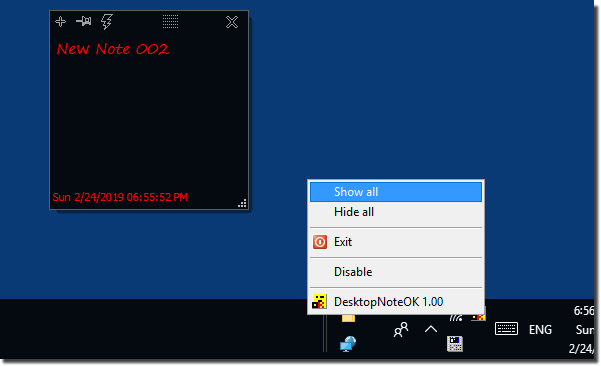 You can change the settings at any time using the To-Tray icon of the Windows Desktop Taskbar. 
Desktop Note Installation on all Windows 10, 8.1, ...
Optionally in the download area is the installable and portable version of the  Desktop Notes tool. The desktop note-OK  you do not need to install absolutely, you can easily from the desktop, even without installation and the notes are immediately available on all Windows operating systems. Thus,  Desktop Note OK  for Windows can be used as a portable application.



# DesktopNoteOK Versions History


New in version 3.71 // 8 December 2022
Important fixes and improvements for MS Windows 11
Updated the language files in the desktop notes tool



New in version 3.66 // 3 October 2022
Verification and testing of Desktop-Note-OK on Windows 11 22H2
General corrections and small fine-tuning in Desktop-Note



New in version 3.61 // 13 August 2022
Updates of the language files in DesktopNoteOK
Small corrections as well as improvements



New in version 3.55 // 20 July 2022
Important adjustments in the Sticky Notes application for older MS Windows NT operating systems
Small corrections Update of the language files



New in version 3.41 // 12 June 2022
Improvements when used on dual screen monitors for all MS Windows operating systems
Important update of the language files in the Desktop-Note application




... complete Versions History




# DesktopNoteOK is multilingual and a popular program worldwide:

Program Keys:


Use and supported operating systems


The decorative desktop notes are suitable for: The Desktop Notes Tool is a simple, but at the same time beautiful extension, or alternative to the standard Windows Desktop Notes, which are difficult to access in Windows 10 with different themes and customization.Windows 11, Windows 10, Windows 10 Pro, Windows 10 Enterprise, Windows 10 Home, Windows 8.1, Windows 8.1 Enterprise and Pro, Windows 8, Windows 8 Enterprise and Pro, Windows 7, Windows 7 Enterprise, Windows 7 Home Basic, Windows 7 Home Premium + Professional, Windows 7 Starter + Ultimate, , X64, x86 and x32 all Windows, MS Windows Server 2019, 2016,2012, .








* Notes on the desktop under Windows 11, 10, alternative to Short Note!
---
Thanks+