It is quite easy to see the resource consumption under MS Windows 11, 10, ... to see what the programs are consuming!

Since some programs are real world champions in resource consumption, you cannot use the Windows Task Manager to recognize everything you need in terms of network, memory, CPU. Here, the Windows Resource Monitor is the right tool to uncover what you are doing on your computer. 


Content:
CPU, RAM, disk, network louder practical information to expose possible waste of resources.
Inform your software manufacturer
about any abnormalities that will help them to improve their software.
They will thank you!
 Since the software manufacturers are always happy to have attentive users who will help them to make your software better by reporting any unusual behavior!
1.) Detect big resource consumer via Windows Task Manager!
1. Start the Task Manager Ctrl+Shift+ESC
2. Select "More
d
etails"
3. Select the Tab Processes 
4. Right Click on one of the Columns
5. Select Resource Columns
6. End see some of the resource consumer
(
... see Image-1 Point 1 to 6
)
(Image-1) Identify the big resource washes on MS Windows OS!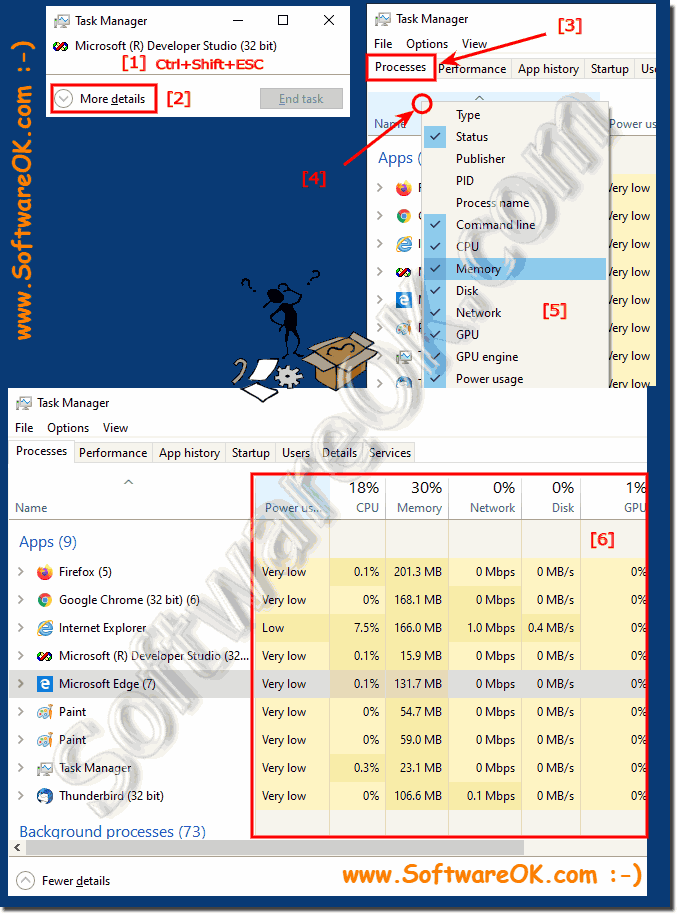 2.) Start the Resource Monitor!

1. Shortcut Windows + R and the command resmon.exe

2. And you can already see the Resource Monitor

(... see Image-2 Point 1 to 3)



(Image-2) Identify the big resource washes on MS Windows OS!