Detect which version of WDDM driver model your GPU driver uses / supports by opening the DirectX diagnostic program on Windows 11, 10, ... and other MS OS! 
This simple solution is not only suitable for the new Windows 11 and 10, the query from the WDDM driver model can be queried under all Windows operating systems and can also be used as an example by Windows beginners to system administrators.


The query from the WDDM driver model of the graphics cards!


Use the Windows + R  key and the dxdiag command  and then press Enter to type that and then press Enter to open the DirectX Diagnostic Tool. 

 

Click on the

"Display"

tab and look under

"Driver Model"

under the Driver group box on the right .

(

... see Image-1 Point 1 to 4

)

(Image-1) What is the WDDM driver model of my GPU / graphics card?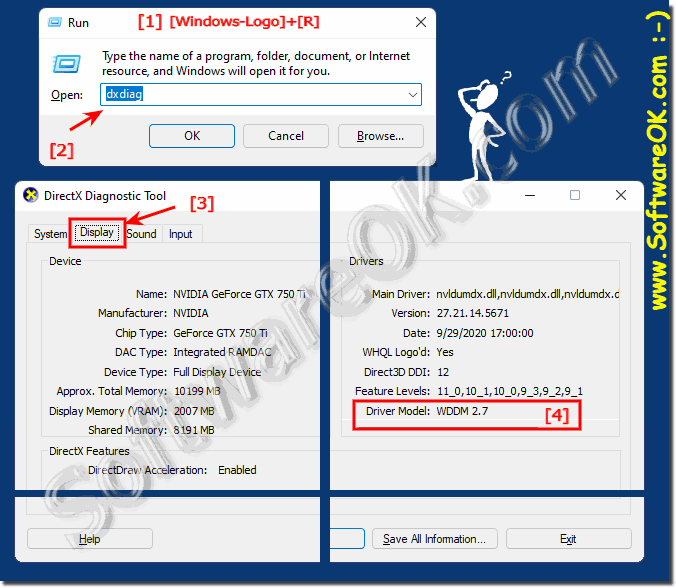 Info:

WDDM is a replacement for the previous Windows 2000 and Windows XP display driver model, XDDM / XPDM, and is aimed at enabling better graphics performance as well as new graphics features and stability. Display drivers in Windows Vista and Windows 7 can use either WDDM or XDDM. However, with the removal of XDDM from Windows 8, WDDM became the only option. WDDM provides the capabilities needed to render the desktop and applications with Desktop Window Manager, a compositing window manager running Windows Direct3D. It also supports new DXGI interfaces, which are required for basic device management and creation. The WDDM specification requires at least a Direct3D 9 capable graphics card, and the display driver must implement the device driver interfaces for the Direct3D 9Ex runtime to run older Direct3D applications. Optional runtime interfaces for Direct3D 10 and higher can be implemented.



FAQ 82: Updated on: 24 July 2021 17:17