The speed of overwriting is dependent on the amount and number of data to be overridden on Windows 11, 10, ... or MS Server OS!



 

Content:



1.) The speed of overwriting under MS Windows OS! 
The renaming of the file to a random name before deleting, is not so time intensive ~ 0.1 sec. per file.

The erases speed, is also addicted from the hard drive speed, or the corresponding medium (USB stick, SD memory cards, SSD or HD) on which the data is located.

However, it has a progress indicator. Here you can see how long the deletion process will take.





(Image-1) Remaining time for overwrite of Windows files!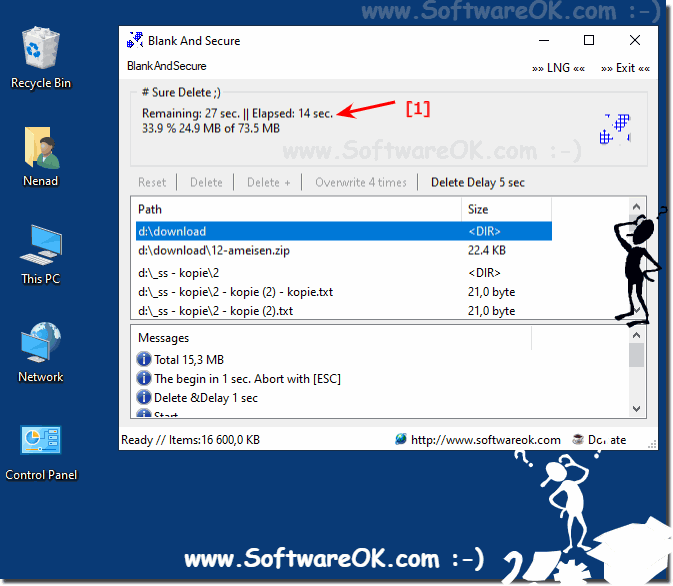 Info:
As you can see above in Windows 10 shot screenshot, you can easily use this file shredder to overwrite the files 35 times plus Randomly Rename the files and unscrupulous on older versions of MS Windows operating systems to safely delete files.
The file shredder does not care if you use the deletion of the data on a native Windows desktop computer, or to go on on the tablet PC and Surface Pro / Go, or even a professional Business Server operating system.
It really makes good sense to overwrite this data 35 times sometimes, it is a simple yet effective deletion tool, it has been tested on different MS OS and successfully 
verified
.

2.) Information about the speed of the hard drives and so ...!
The speed of the hard disk is of course the decisive factor when it comes to securely deleting data, and this is not only the case with Microsoft Windows operating systems. However, many factors also play a role here.

This is possibly information that could be of interest in relation to secure deletion and speed:
FAQ 3: Updated on: 29 May 2022 13:01