The Difference: When Shut Down Save and Auto-Save on Shutdown!





Please always use ... the latest version of DesktopOK! 

1.) The automatic saving of the desktop icons.
The Auto-Save saves up to 32 Last desktop icon positions or layouts. After that, the oldest entry will be deleted.

These are named consecutively with Auto-SaveXXXXX (1 ..).

Tip: For the purpose of the overview of the auto-save entries, you can activate the option "Only if changes the layout"
(... see Image-1 Arrow-3) . And now it will only be saved if something has changed on the Windows Desktop Icon Layout.

If the option

✐ Save by Windows Shutdown

is activated, a "Shutdown_Startup" entry will be at system shutdown created.
(... see Image-1 Arrow-2)

This will be used when the ✐ Restore by Windows Startup, to restore the desktop icon layout at System Start.
(Or the desktop icon positions). (... see Image-1 Arrow-4)



(Image-1) The auto saving of the desktop icons!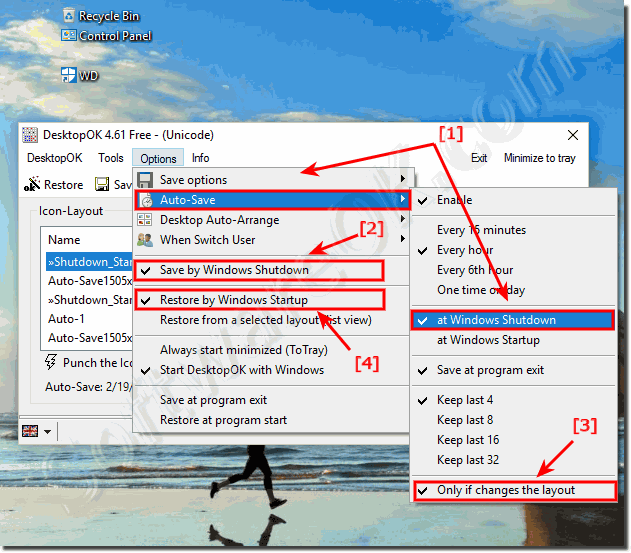 2.) What happens when the entries are renamed.
When you rename the entries, they are treated as normal entries. And do not count more than automatically generated.
Thus they are not overwritten. (... see Image-2 Arrow-1)



(Image-2) Rename Desktop Icon Layouts!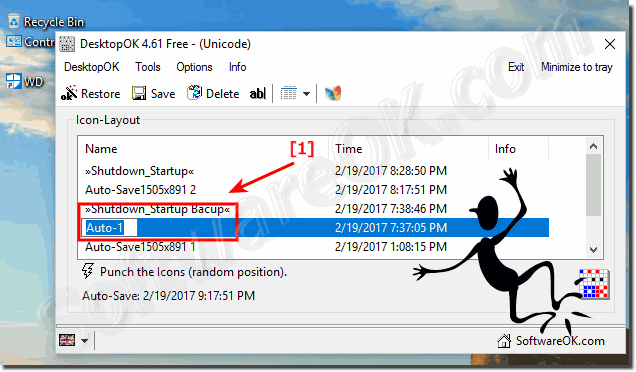 FAQ 23: Updated on: 7 July 2018 04:47