Yes, there was a problem with new symbols that
were created after saving the icon layout on MS Windows 11, 10, ... Desktop

and Server OS!



With version 8.55 the problem has now been eliminated. When restoring the desktop icons, the old desktop icon positions are compared with the current ones. If it is found that there are new symbols, these will be taken into account if the desktop symbol positions overlap, regardless of whether Microsoft Windows 11, 10, ... etc. or MS Server 2019, 2016, ... etc.!

 



Content:



1.) Please use Desktop-OK version 8.55 or higher for such problems!
1. Start as always ►►  ... your desktop icon manager for MS Windows OS

2. Please check whether the version is greater than or equal to 8.55 ... ( ... see Image-1 ) Windows 10, 7 and still XP 

PS:
If you have any problems with the desktop symbols, just contact me (Impressum) as always ! 






(Image-1) New symbols that were created after the Save Icon Layout!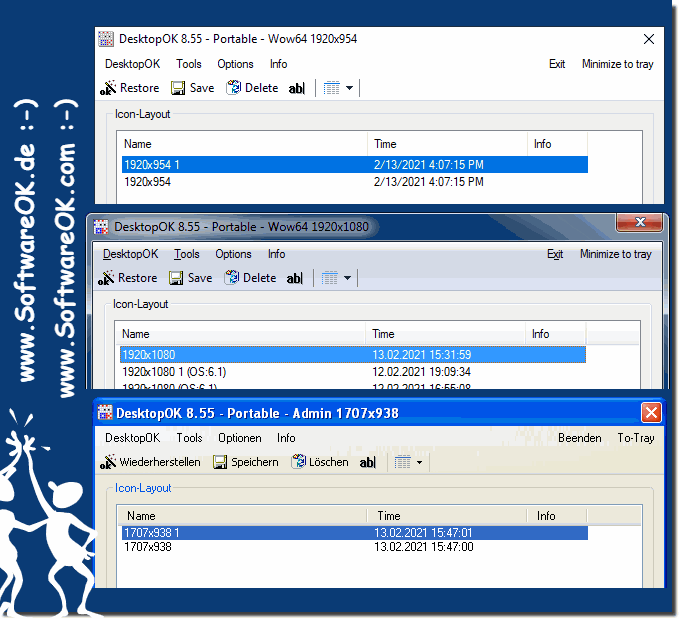 2.) No suffering from the so-called desktop icon phobia!
You have to deal extensively with the desktop icon layout problem, because sometimes complex desktop icon shifts occur on the Windows desktop, in order to recognize the problem and to eliminate it, you have to properly reach into the programming bag of tricks to deal with the complexity problem Eliminating the Microsoft Windows desktop icons problem, even if it seems easy, can cause many desktop lovers stomach ache, but the expectations of Windows users with regard to desktop icons cannot be 100% covered, with DesktopOK I try to make this possible get a grip on the shifts in the desktop icons! 

So that MS Windows users do not have to worry about the desktop icon positions and suffer from the so-called desktop icon phobia!

To be understood on the teacher's request:






FAQ 44: Updated on: 28 August 2023 08:28