Yes, and it's very easy to use this little snow tool on all MS Windows 11, 10, and other MS Win OS to drop snow or other things on the desktop!
Even under the latest
 Microsoft Windows 11
 you can use the desktop snow to give the desktop a playful touch. It is suitable for all Windows OS from Windows 2000 to MS
Windows 11
and Microsoft's Windows Server 2022, 2019, 2016, .... you don't have to do without this little desktop snow cannon on any Windows PC!
1.) Simple example of the desktop snow on MS Windows 11!
1. Download the ► ... the Desktop Snow Tool for Windows 11

2. Open the zip folder  / archive in  Windows 11, .. Download folder

3. Place it on the desktop if necessary
(you can use the tool in any save any folder)

4. Start the Desktop Snow Tool 

(... see Image-1 Point 1 to 5) 

Continue with: ► Options in the digital desktop Snow under Windows 11




(Image-1) Let it snow on the Windows 11 desktop and continue to use it!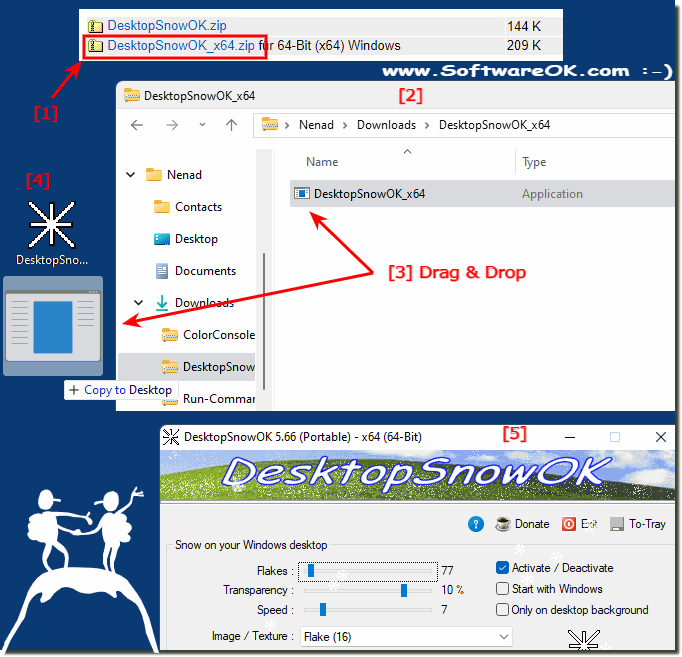 2.) Options in the digital desktop snow under Windows 11!
All options in the desktop snow dialog are quite clear and self-explanatory 

flakes, transparency, speed. Size, algorithm, rotation, ... 

(... see Image-2) 





(Image-2) The snow options for the Windows 11 desktop!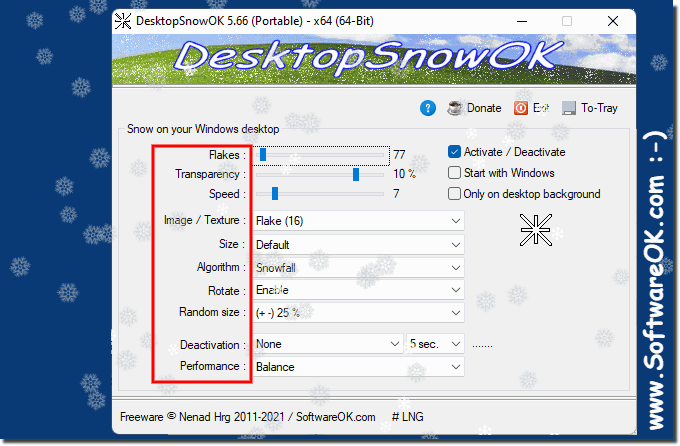 3.) What should I watch out for with the desktop snow on Windows 11?



There is nothing great to note about desktop snow on Windows 11, other than that it is a relatively neat decorative Windows 11 tool but it can be removed from the Windows 11 machine at any time! 




 






You can also use this snow tool on earlier versions of MS Windows without any problems, regardless of whether you use it on a simple Windows desktop PC or on an MS Server OS!





FAQ 10: Updated on: 30 August 2023 15:49