Sometimes if you make an image on you smartphone or iPhone and save it on PC and then flip or rotate the image you can find the original again.



Please activate this search option in Find.Same.Images.OK if you need it.

Rotated or even mirrored images can be found by Find.Same.Images.OK. Even if the pictures were changed in size or dimension.

These image search options are disabled by default, as they take extra time.

After you have selected the folder for the image comparison just activate the options, optionally you can also search for negatives. But it is rather something for Dias friends if they have this fact in the negative on the hard disk.



In short

, simply activate the options if they are needed. 

Change 

Rotated Images No

 to Rotated Images Yes .

Change 

Flipped Images No

 to 

Flipped Images Yes

. 

Flipped Images the same as Mirrored Images 

Please always use 

... the latest version of Find.Same.Images.OK

! 






(Image-1) For what the flipped and rotated image search?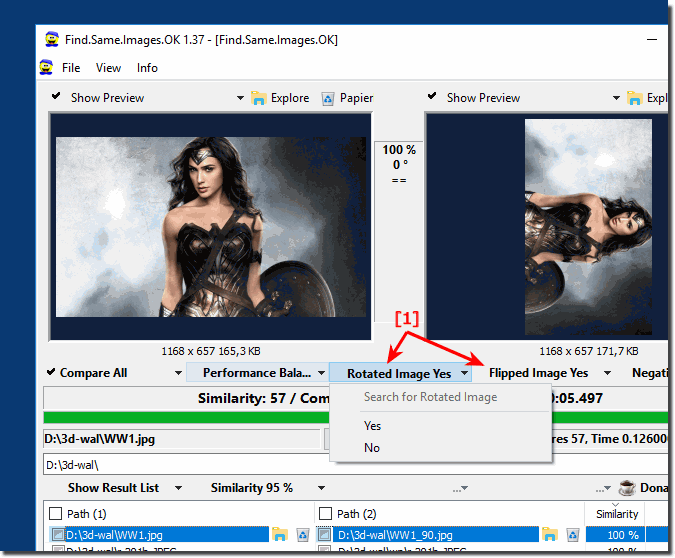 Info:

Apples MAC OS Applications are spoiled in the general with various graphics programs, however, the mirrored and rotated image search is not magic. No, there are just a couple of algorithms that do your job, much like the mighty Google and Bing search as you can see above in Windows 10 shot screenshot, it really makes very good sense to use this image search feature No matter if it's a native Windows desktop PC, on the Tablet PC or MS Surface Pro and Go, or even on a Professional MS Server operating system, earlier / older versions of Microsoft's Windows operating systems are suitable.


FAQ 5: Updated on: 30 August 2023 14:34