There are two shift keys on the keyboard, one on the right and one on the left, this is often referred to as the shift key or up key and is used to switch to upper case!




 

Content:



1.) The shift key!
Here in the picture you can see both ( .. see Image-1 ), the shift key is also used to enter special characters, exclamation marks, question marks, etc.!   


See also: ►  Differences between the right and left shift keys?



(Image-1) The Shift key on the keyboard!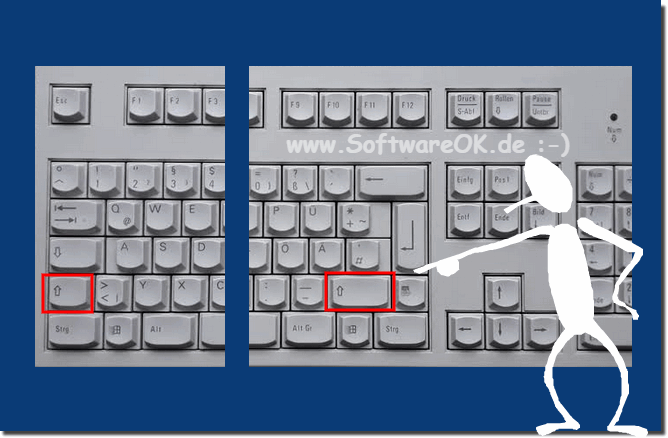 2.) Interesting facts about the shift key!
The shift key, also known as the uppercase key, is an important key on the computer keyboard and is used for various functions. 
The most obvious function of the Shift key is the ability to write capital letters . If you hold down the Shift key and press a letter on the keyboard at the same time, the corresponding letter will appear in uppercase.
The Shift key also allows
access to special characters
and symbols that are on the same key as letters or numbers. If you hold down Shift and press a key that has a
special character
on it , e.g. B. the "1" with the "!" symbol, the
special character
is output.
The Shift key is also important for case sensitivity . If you just hold down the Caps key while typing, all letters will be capitalized. If you release the Shift key, you will return to lowercase writing.
The position and appearance of the Shift key may vary depending on
the keyboard layout
and manufacturer. However, in most cases there are at least two shift keys on a standard keyboard, one on the left side and one on the right side.  
It can also be used in many programs as part of keyboard shortcuts to trigger special commands. So, the Shift key is a versatile and important key on the keyboard that performs various functions and is widely used in various application areas. It makes writing texts, entering
special characters
and navigating computer programs much easier.
FAQ 257: Updated on: 26 September 2023 16:53