WMCI is a Windows 11, 10, ... etc. tool that can be used via a command interpreter such as the command line or the PowerShell! 


The WMCI stands for "Windows Management Instrumentation Command-Line" This little-known tool can be used to make system queries, but administrative rights are required for some commands!


If you want to read up on this, you will find helpful information on the Microsoft website 
https://docs.microsoft.com/en-us/windows-server/administration/windows-commands/wmic

PS: The Windows Media Center user interface is also often abbreviated as "WMCI".

Contents:



1.) Here is a simple example of the screen resolution query via WMCI!
1. Please run Command Prompt or PowerShell (Windows + R command: PowerShell)

2. Type the command;
wmic path Win32_VideoController get CurrentHorizontalResolution,CurrentVerticalResolution

3. And you can see the resolution of your screen

Optionally, you can query further parameters  wmic path Win32_VideoController get /?





(Image-1) Screen resolution via WMCI under Windows!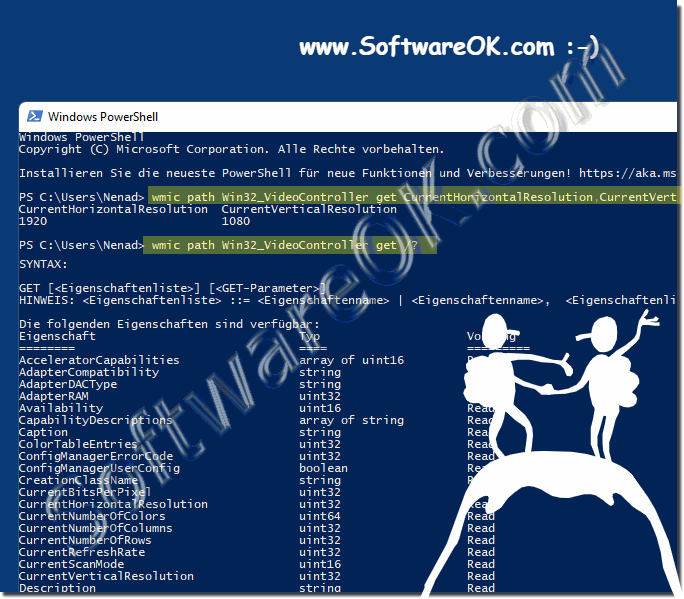 2.) Further information worth knowing about the WMCI and Co. plus tips!
Dass Windows Management Instrumentation, ist eine Technologie in Microsoft Windows, die es ermöglicht, Informationen über den Zustand und die Konfiguration eines Windows-Systems zu sammeln und zu verwalten. WMI wird häufig von Systemadministratoren und Entwicklern verwendet, um auf Systeminformationen und -funktionen zuzugreifen.

 



WMI/WMCI are powerful tools for system administrators to monitor, manage and automate Windows systems. It is often used in conjunction with tools such as PowerShell to automate complex administrative tasks and improve efficiency when managing Windows networks.





FAQ 258: Updated on: 26 September 2023 17:34