The word Invisalign is a wordplay from English Invis and Align!


Invis = invisible, not visible, means sightless 
Align = aligned means to adjust, to fit, to customize, to re-adjust, to adapt.

The term invisalign is mainly used in orthodontics, or also referred to as Aligner therapy.


The invisible alignment!


It is a transparent, thin and transparent plastic splint that can replace the braces! (... see Image-1 Point 1)

Of course, there is no statutory health insurance benefit, the cost here is well over € 10,000 and the treatment takes longer than with the normal braces, up to 2 years.

I read in a bit because the braces were worn by my children.



Benefits of Invisalign:
Invisible, because it is transparent and thus unobtrusive to other people who do not pay attention.

Removable, so no problems with food or dental care
Disadvantages of Invisalign:
Wear times of 22 hours a day lead to the success of the treatment.

Since this brace replacement is removable, no required pressure is exerted on the teeth when not given wearing, which can extend the treatment.

Always clean the teeth carefully before using the rails.

Lispeln the patient (in the beginning).

The method is not subsidized in Germany by the health insurance companies
Maybe it's an adult thing! Where, starting warm is not a child anymore?? ;-) 




(Image-1) Invisalign!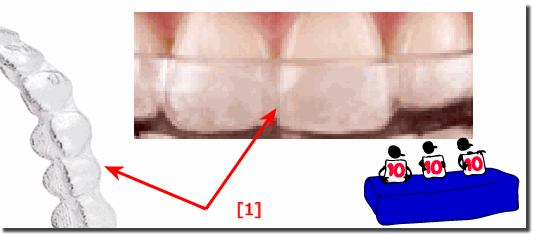 FAQ 37: Updated on: 7 June 2018 08:45