No, you don't necessarily have to shoot viruses at the computer, they are not real viruses, but digital replicas in a virtual matrix interpretation!


The base game has 999 viruses in total, 99 of which are highly explosive! Here is a list of the game modes  

controls:
WASD or arrow keys 
look / and direction mouse 
shot = left mouse button 
double speed = right mouse button  
[Page Down] or [E] accelerate faster




1. Save the Matrix

You have to eliminate all 999 viruses, every 10th virus is a high explosive, which makes things easier



2. Quick Game 90 sec.

Same as Game Mode 1, only limited to 90 seconds 

3. Find the last 66 viruses

The last 66 viruses are on the move in the 3D Corona Matrix, eliminate them as quickly as possible 

. 4. Fire free - 3000 ;-)
There are no highly explosive matrix viruses here either, but there are many viruses. Reach 3000 matrix points as fast as possible 

5. Don't
hit the red viruses, but the rest. If the red matrix virus explodes, you have to start over. It is successfully completed when you reach 3000 points, the faster the better.
 

6. Neo 's favorite game 4:30 min.

Like the 90 second game but 3 times as long!  



 


(Image-1) Shoot on the MatriX computer viruses!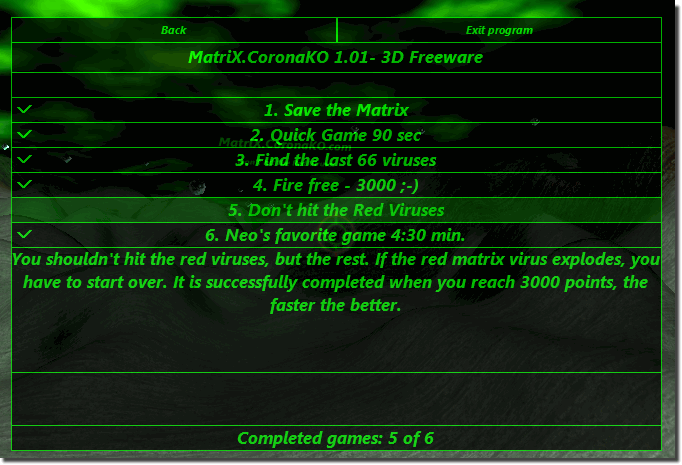 FAQ 1: Updated on: 8 April 2022 08:33