It is quite easy in
Office Word to remove the formatting

of inserted text that does not fit the Word document!




It is known that if you copy text from another document or Internet pages from another document and paste it into Microsoft Word, Word will retain the unsightly formatting of the text. For example, if you copy the text on this page to a Word file, that text will be bold and that text in the HTML template color. 




To remove unwanted formatting in Microsoft Word from any text, highlight the text and simply press Ctrl + Space . This shortcut command resets the text to the current predefined document default font, removes the formatting and even removes links, for example web pages etc ....


See also: ► paste plain text or text without formatting from the clipboard?



(Image-1) Removing the formatting in Word via keyboard shortcut!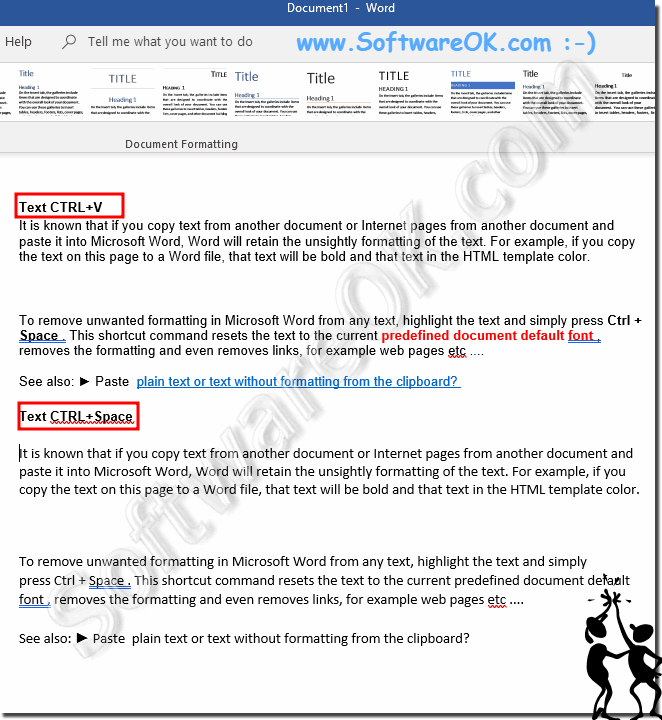 Info:
However, you can use this paste plain text or text without formatting from the clipboard example as a solution without hesitation an disadvantages also for older versions of Microsoft's Offices on Windows operating systems whether it's a Windows desktop, tablet, Surface Pro / Go, or even a server operating system. It has been tested on all and successfully
verified
.  
It is sometimes necessary to
use this paste plain text free tool solution
 It is a simple yet effective tool, use it and get in touch with the plain text benefits. 

FAQ 15: Updated on: 11 May 2021 14:14