The solution is
easy to write short invitations and / or reports

on Windows 11/10 for free!

(Image-3) Write short invitations and reports on Windows 10!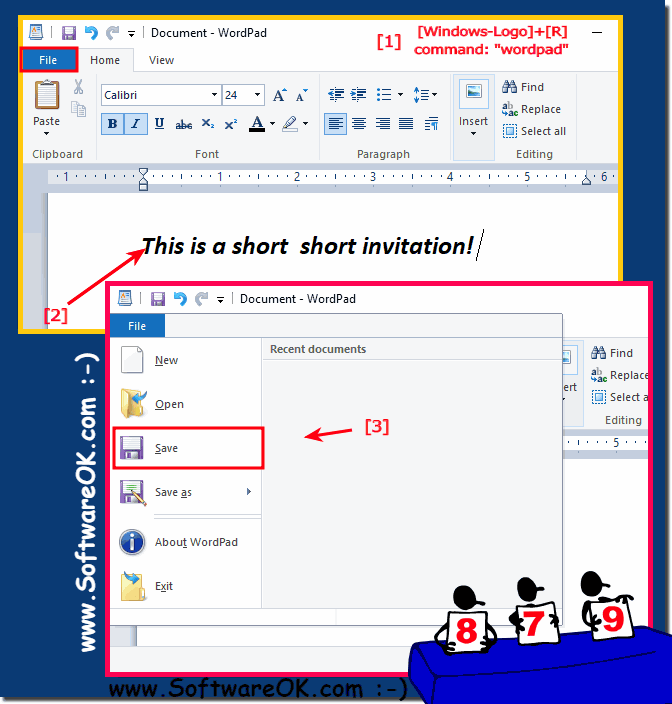 Info:
With an app such as WordPad or Word, you can text such. For example, writing, modifying and designing letters, invitations and reports. To get acquainted with the WordPad app, restart WordPad. Use the keyboard to enter text. You can do most of the input just like you would with a typewriter. You enter the text using the letter keys. Capital letters are generated by holding down one of the two shift keys, it does not matter what you use while you press the desired letter key. With the spacebar, you score the space between two words. At the end of the line WordPad automatically changes to the next line. So you do not have to pay attention to the end of the line as with the typewriter. By pressing the return or enter key, you create a blank line / paragraph and change to the next line before the end of the line.You can create one or more "blank lines" with the return key. This leads to gaps between the text blocks. Whether it's a Windows desktop, tablet, Surface Pro / Go, or even a server operating system. It has been tested on all and successfully
verified
.  
If you would like to use Word for free, you can do so online in an online version.
https://office.live.com/start/Word.aspx